Lee Lauded by Government, Business Leaders as Political 'Giant'
Shamim Adam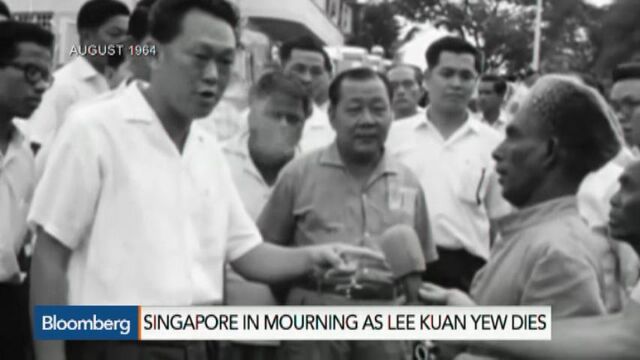 Government and business leaders remembered Lee Kuan Yew as a political "giant" who forged Singapore as a regional economic powerhouse and helped foster greater cooperation among many Southeast Asian nations.
Lee, who died Monday at 91, was Singapore's first elected prime minister, a Cambridge University-trained lawyer who led the nation from 1959 to 1990, a period that included full independence from Great Britain and a split with Malaysia.
U.S. President Barack Obama said discussions with Lee in 2009 were "hugely important" in helping him formulate the U.S.'s policy of rebalancing to the Asia Pacific region.
"Lee's views and insights on Asian dynamics and economic management were respected by many around the world, and no small number of this and past generations of world leaders have sought his advice on governance and development," Obama said in a statement. "He was a true giant of history who will be remembered for generations to come as the father of modern Singapore and as one of the great strategists of Asian affairs."
Lee was hospitalized Feb. 5 to treat severe pneumonia, where he was sedated and put on mechanical ventilation. As leader, he crafted policies to encourage foreign investment while averting corruption and emphasizing discipline, efficiency and interracial harmony. His son, Lee Hsien Loong, has been prime minister since 2004.
'Uniquely Influential'
China said the elder Lee was a "uniquely influential" statesman with oriental values and international vision, according to a statement from Foreign Ministry spokesman Hong Lei. President Xi Jinping sent his condolences in a telegram to Singapore President Tony Tan, China's Foreign Ministry said, where Xi described Lee as "an old friend" of Chinese people and the founder and pioneer of China-Singapore ties.
India's Prime Minister Narendra Modi took to Twitter to call Lee a "lion among leaders" while Japanese Prime Minister Shinzo Abe said Lee had "unparalleled insights." Taiwan President Ma Ying-jeou said Lee was a decisive leader who was proud of helping Taiwan bridge relations with China.
"The nation he leaves behind is an influential force for stability and prosperity and a friend to the United States," former U.S. President George W. Bush said in a statement. Bush's father, ex-U.S. President George H. W. Bush, said Lee managed to raise living standards without Singapore indulging in a culture of corruption.
Meritocracy, Efficiency
Singapore has been ranked by the World Bank as the easiest place to do business for at least eight years, and has Asia's highest GDP per capita. International Monetary Fund Managing Director Christine Lagarde said Lee's focus on meritocracy, efficiency and education transformed the city state.
News Corp. Chairman Rupert Murdoch called Lee a "great uncompromising statesman" in a Twitter posting, saying the two first met in Australia 50 years ago. Lee's advice was "always wise," Murdoch said.
Other business leaders praised Lee's drive for Singapore's success. Li Ka-shing, Hong Kong's richest man, said he was a "veritable force of nature" who accomplished what few managed to do, while Southeast Asia's wealthiest man Robert Kuok said the late premier "did not allow anything to stand in his way" of achieving his dream for a prosperous nation.
Modern Society
Lee "personally shaped Singapore in a way that few people have any nation," U.K. Prime Minister David Cameron said in a statement. "His place in history is assured, as a leader and as one of the modern world's foremost statesmen."
In neighboring Malaysia, Prime Minister Najib Razak called Lee's achievements great and his legacy "assured." After more than 140 years under British rule, Singapore joined the Federation of Malaysia in September 1963 before leaving less than two years later amid ideological differences.
The Philippines said Lee built Singapore into an "economic powerhouse and modern society" while Indonesian Vice President Jusuf Kalla said Lee's vision provided inspiration for Asia.
Lee was a "giant of our region" who 50 years ago led a "vulnerable, fledgling nation to independence," Australian Prime Minister Tony Abbott said in a statement. "Thanks to his leadership, Singapore is now one of the world's most prosperous nations, a financial powerhouse, and one of the world's easiest places to do business."
Diverse Region
New Zealand Prime Minister John Key cited Lee's efforts to help establish the 10-member Association of Southeast Asian Nations, "which has offered cohesion and stability in a diverse region."
United Nations Secretary-General Ban Ki Moon praised Lee's efforts to transform Singapore into 'a thriving international business hub.'' World Bank President Jim Yong Kim said Lee showed how a city-state with few natural resources could succeed through education, planning and an efficient civil service.
"He tackled corruption relentlessly and held public servants to the highest standards," Kim said. "Most importantly, he showed that economic development could provide opportunities and improve the lives of a country's citizens."
Before it's here, it's on the Bloomberg Terminal.
LEARN MORE