UN Women Cancels Partnership With Uber to Create 1 Million Jobs
Serena Saitto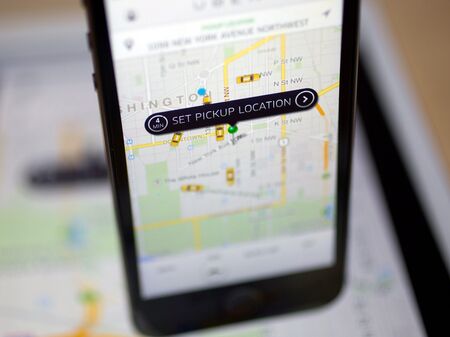 Photographer: Andrew Harrer/Bloomberg
The United Nations backpedaled on plans to partner with Uber Technologies Inc. to create 1 million jobs for women within the next five years, amid pressure from labor union and non-governmental organizations.
The deal aimed at advancing gender equality was announced on March 10, when the San Francisco-based company sponsored the 20th anniversary of the Beijing Declaration on women's rights and economic empowerment. Beyond that event there have been no discussions about pursuing the partnership, A UN spokeswoman said.
"UN Women is grateful for Uber's generous support to this event, and encourage Uber to continue its efforts to promote gender equality," Nanette Braun, a spokeswoman for UN Women said in an e-mailed statement Friday. "At this point, we do not plan to expand the collaboration."
The car-booking company, co-founded in 2009 by Travis Kalanick and Garret Camp, has expanded to almost 300 cities in 54 countries, encountering regulatory hurdles and protests by taxi and limousine drivers worldwide. The International Transport Workers Federation raised an outcry against the UN group's partnership with Uber, saying the jobs created would likely be "insecure and unsafe."
Uber will still seek "to create 1 million jobs for women as drivers" by 2020 and will seek advice from UN Women and groups around the globe to achieve that goal, according to an e-mail from a representative for the company.
Assault Cases
Uber passengers reported assault cases in Boston and in India, where the company has introduced an S.O.S. button for users to call for police in an emergency.
Uber has raised almost $6 billion in equity and debt financing to date, reaching a valuation of $40 billion, the highest for a U.S. startup.
Uber and its rival, Lyft Inc., earlier this month lost an early round in their court fight with drivers who claim they should be hired by the ride-sharing companies instead of being treated like contractors.
The on-demand car services will need to prove to juries why they shouldn't offer drivers minimum wage, reimbursement for expenses and other benefits, according to March 11 rulings by two judges in separate cases in San Francisco federal court.
Before it's here, it's on the Bloomberg Terminal.
LEARN MORE