Some of Martin O'Malley's Children Are 'Psyched' About Possible Presidential Run
The former Maryland governor has not yet decided whether he will challenge Hillary Clinton for the Democratic nomination.
By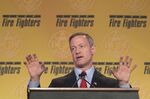 Will he or won't he?
Former Maryland Governor Martin O'Malley, a potential challenger to Hillary Clinton for the 2016 Democratic nomination, says his family is approaching the idea of his running with caution, but at least some of his children are "psyched" about the possibility of a presidential campaign.
"Some of the kids are more psyched up about it than others," O'Malley told the Des Moines Register. "And I guess we wouldn't be sane and rational people if we didn't approach this colossal undertaking without some degree of apprehension and worry about what it means for privacy."
O'Malley also discussed some policy issues with the Register, delving into the economy, immigration reform and same-sex marriage.
On the economy, O'Malley noted that the appearance of the term "income inequality" in Republican rhetoric is "ironic, since their choices led to it." He added that he sees Republicans "doubling down on those failed trickle-down economic policies of the past."
O'Malley was in Iowa for two days over the weekend and spoke to about 70 people at a Pottawattamie County Democratic party event.
He also spoke to the Register about immigration reform, saying he supports laying out a path to citizenship.
"We have delayed immigration reform for far too long," he said. "When people live in the full light of an open society, paying their taxes abiding by the rules, that makes our country not only safer and more secure, because people are not relegated to living in the shadows, you're not creating underground economies. It also is better for wages."
Asked about how his support for same-sex gels with his Catholic faith, O'Malley said he believes the primary tenet of his religion is "the dignity of every person.
"I find that the passage of marriage equality actually squares with the most important social teaching of my faith," he said.