Pirelli Risks Long Takeover Fight as Shares Outpace Offer
Tommaso Ebhardt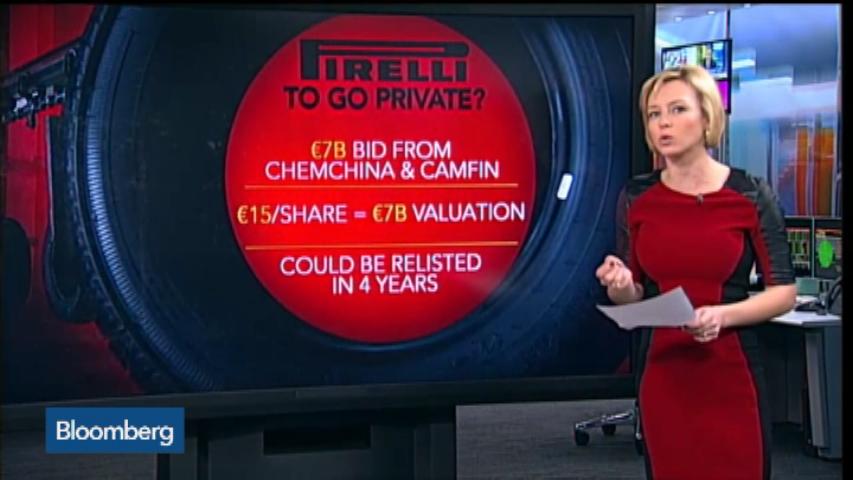 Pirelli & C. SpA risks becoming ensnared in a protracted takeover battle as minority investors in the Italian tiremaker seek to hold out for a better price than its Chinese suitor's first offer.
ChemChina, a state-owned company that makes tires along with fertilizers and other chemicals, bid 15 euros a share, just 4 percent higher than Pirelli's price on the day before talks became public last week. The stock rose to as much as 5 percent above the offer on Monday.
The Chinese company and its partner Cam Finanziaria SpA -- Pirelli's largest investor, which is partially owned by Chairman Marco Tronchetti Provera -- have a high threshold to end the Milan-based company's public listing as planned, needing to secure 90 percent of Pirelli's stock for the move. Failing to clear that hurdle could delay restructuring such as spinning off Pirelli's truck-tire business.
"Minority shareholders have a lot of power in their hands," said Vincenzo Longo, a strategist at IG Markets in Milan. "The price offered isn't giving them the expected premium."
Pirelli would be a prize for Beijing-based ChemChina, which would leap onto the international stage with Pirelli's high-end car tires. ChemChina's Aeolus Tyres unit is ranked 23 in the global tire industry and has little presence outside China. The combination would also help Pirelli by doubling the volume of its truck-tire business and providing a bridgehead in China. Europe's top two tiremakers, Michelin & Cie. and Continental AG, are also looking at Asian expansion.
Camfin Support
Still, the tender offer, which values Pirelli at about 7.4 billion euros ($8.1 billion) including saving shares, may not be high enough for minority investors, such as the Malacalza family, the Benetton family and investment bank Mediobanca SpA. On Monday, the stock climbed as high as 15.76 euros and was up 1.6 percent at 15.47 euros at 4:36 p.m. in Milan.
That could leave months of uncertainty. ChemChina and Camfin said they expect to start the tender this summer after regulatory hurdles are cleared for the purchase of the Pirelli investment vehicle's 26.2 percent holding.
Camfin will support the offer by reinvesting some of the proceeds from its stake to help take Pirelli private. The deal is backed by Tronchetti Provera, 67, who has managed Pirelli since 1992 and will stay on as chief executive officer after the deal.
Complicated Alternative
In the end, the agreement calls for China National Chemical Corp., as ChemChina is formally known, to hold at least 50.1 percent of Pirelli and Camfin as much as 49.9 percent. The deal would be the biggest Italian purchase by a Chinese company.
If the partners fail to reach the 90 percent needed to take Pirelli off the market, there is a more complicated alternative. With a stake of at least 66.7 percent, ChemChina could merge Pirelli with the vehicle carrying out the tender, thereby forcing a delisting, according to analysts.
Even with the clout that smaller shareholders have, the ChemChina deal is likely to be the only game in town. Prospects of a counteroffer for Pirelli look "limited" because of the "strong" agreement between Camfin and ChemChina, Longo said.
Before it's here, it's on the Bloomberg Terminal.
LEARN MORE