Lafarge Said to Favor Gauthier, Olsen for LafargeHolcim CEO
Francois de Beaupuy and Aaron Kirchfeld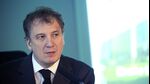 Lafarge SA, the French cement maker which is planning to merge with Swiss competitor Holcim Ltd., has identified two candidates to lead the new entity, two people with knowledge of the matter said.
Lafarge Chief Financial Officer Jean-Jacques Gauthier and Executive Vice-President Eric Olsen are favored by the French company to become chief executive officer of LafargeHolcim, said the people, who asked not to be identified because they aren't authorized to speak in public.
The companies need to find a new CEO after Holcim earlier this month demanded to change an initial agreement that would have installed Lafarge chief Bruno Lafont as head of the $48 billion company. Holcim had questioned the ability of the French executive to reach savings targets after Lafarge's results lagged its Swiss peer. Lafont and Holcim managers also clashed over issues including leadership style and strategy.
The companies agreed on March 20 to make Lafont co-chairman of LafargeHolcim along with Holcim Chairman Wolfgang Reitzle and give the Swiss company a bigger stake in the new entity, leaving open the contentious question of who will be CEO of the world's biggest cement company.
Shareholder Approval
Olsen, who has both French and U.S. nationality, joined Lafarge in 1999 and was in charge of organization and human resources in 2007 before becoming executive vice president of operations in 2013. The executive, who started his career at consultancy Deloitte & Touche, holds a degree in finance and accounting from the University of Colorado and an MBA from the HEC business school in Paris.
Gauthier, a graduate in law and economics, started at audit firm Arthur Young and joined Lafarge in 2001. The executive, who has held roles in France and the U.S., also worked as finance chief of French-British aerospace venture Matra Marconi Space and in the same position at aerospace manufacturer Astrium. Le Journal du Dimanche reported the names of the CEO candidates earlier Sunday.
Lafarge shares were down 0.3 percent as of 9:45 a.m. in Paris trading while Holcim declined 0.2 percent in Zurich.
The French company said today that reports about potential CEO candidates are "sheer speculation" and "premature at this stage." Holcim declined to comment.
Lafarge will propose a new CEO for the enlarged company in coming weeks, before Holcim shareholders vote on the proposed merger.
Reitzle's Role
While Lafont will become co-chairman, Reitzle will be the only statutory chairman of the new cement giant, making him more powerful than his French counterpart.
"Holcim couldn't have given up this official position as it would have thrown the merger project off balance," Reitzle was quoted as saying by Handelsblatt today. He told the German newspaper that he'll still share the task with Lafont. A Holcim spokesman confirmed the comments.
Holcim and Lafarge have predicted the merger will lead to cost savings of 1.4 billion euros ($1.5 billion) annually, giving them an advantage over rivals as a global recession eroded demand for building materials and forced some kilns to run at a loss.
Before it's here, it's on the Bloomberg Terminal.
LEARN MORE