Borland to Repay 49ers 75% of Bonus After Leaving NFL
Erik Matuszewski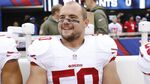 Linebacker Chris Borland said he'll return 75 percent of his signing bonus -- about $463,000 -- to the San Francisco 49ers after leaving the National Football League because of concern about long-term brain trauma.
Borland, 24, said on March 16 that he decided to retire just one season into his four-year, $2.9 million contract. It paid him a base salary of $420,000 as a rookie last season, when he had 108 tackles in 14 games for the 49ers, and included a $617,000 guaranteed signing bonus.
"To play one year, it's not a cash grab as I've been accused of," Borland said in an interview with CBS News' 'Face the Nation'' on Sunday. "I'm paying back three-fourths of my signing bonus. I'm only taking the money I've earned."
Borland, who was a history major at the University of Wisconsin, said he decided to walk away from football after considerable research, concerned that continuing to play could lead to long-term neurological diseases.
"This to me is just about health and nothing else," Borland told CBS News. "I've never played the game for money or attention. I love football. I've had a blast and I don't regret the last 10 years of my life at all. I'd do it over the exact same way. From here on I'm moving forward."
Before it's here, it's on the Bloomberg Terminal.
LEARN MORE