China Internet Company Yielding 18% Shows Default Risks Brewing
Bloomberg News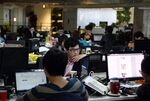 Bonds of 11 Chinese companies now yield more than 15 percent as investors brace for the nation's second onshore default amid record maturities in the coming quarter.
Companies in Asia's largest economy need to repay 1.5 trillion yuan ($242 billion) of local-currency notes in the period to June 30, the most for a quarter in Bloomberg data going back to 1998. The yield on Cloud Live Technology Group Co.'s 2017 debt has jumped 137 basis points to 17.7 percent as of March 20 since the Beijing-based Internet company said on March 4 its ability to meet debt obligations next month face "big uncertainties."
Political, economic and regulatory factors are converging to make defaults more likely. Premier Li Keqiang told parliament this month he is prepared to tolerate individual cases of "financial risk," growth is the slowest in more than two decades, an anti-graft campaign is halting projects and authorities are limiting investors' scope to buy riskier bonds.
"Conditions for a second bond default are becoming more ripe," said Li Ning, a bond analyst in Shanghai at Haitong Securities Co., the nation's third-biggest listed brokerage. "Given the huge amount of redemptions, China's bond market has a high credit risk in the second quarter."
Investors didn't lose a cent in China's only onshore bond default to date. Shanghai Chaori Solar Energy Science & Technology Co., which failed to make a full coupon payment last March, repaid all the principal and interest for its 1 billion yuan of bonds on Dec. 22.
Slowing Growth
The economy expanded 7.4 percent last year, the slowest pace since 1990. Bloomberg's gross domestic product tracker, which draws on measures such as electricity production, shows the pace weakened to 6.28 percent in February. Home prices dropped in more cities last month, statistics bureau data show.
"The economic slowdown has put pressure on Chinese companies, especially non-state-owned companies, which get less support from the government," said Liu Dongliang, a senior analyst at China Merchants Bank Co. in Shanghai. The "probability of a second default is rising."
Cloud Live, which last year changed its business focus from restaurant chains to Internet data, said March 4 investors had applied to sell back 398.71 million yuan of its bonds on April 5. The company had 10.39 million yuan in a special account for the repayment as of Tuesday, the bond's lead underwriter GF Securities Co. said March 18. A person who answered the phone Friday at Cloud Live's investor relations department said the company is preparing its annual report and can't take questions. He declined to be named.
Come Back
The Beijing branch of the China Securities Regulatory Commission has urged Cloud Live to tackle its repayment situation, according to a company statement Wednesday. The CSRC said Cloud Live should tell its biggest shareholder, which filings show is former Chairman Meng Kai, to come back to the country to solve the issue.
Meng went abroad in early October to raise money for note repayments and seek potential investors, according to a Dec. 2 company filing. There hasn't been an update on his whereabouts.
"There will be more credit events in 2015 and we may see a real default that results in losses for bondholders," said Zhang Yingjie, a Beijing-based deputy general manager in the research department of China Chengxin International Credit Rating Co., Moody's Investors Service's local joint venture. "If there's no real default, the market's perception of risk and return will be seriously distorted."
Rate Cuts
The People's Bank of China cut benchmark interest rates by 25 basis points on Feb. 28, following a reduction in November to support the economy. The yield on seven-year AA- rated corporate bonds has dropped 27 basis points this year to 6.30 percent. That's still 154 basis points higher than a record low of 4.76 percent touched in December 2008. The similar sovereign yield dropped 18 basis points to 3.41 percent this year.
"Even after the central bank's interest rate cuts, borrowing costs are still too high for weaker companies," China Merchants Bank's Liu said. "They're still struggling with refinancing pressure."
Some of the other companies whose bonds are publicly traded onshore and yield more than 15 percent include power equipment manufacturer Baoding Tianwei Group Co. and beverage bottle maker Zhuhai Zhongfu Enterprise Co., data compiled by Bloomberg show. The latter's 5.28 percent notes due in May yield 19.3 percent.
Fertilizer Company
Pengyuan Credit Rating Co. put Cloud Live on its credit watch list, according to a statement to the Shenzhen stock exchange from the ratings company Friday.
Brokerages also highlighted risks at Inner Mongolia Nailun Group Inc., a fertilizer manufacturer and property developer. The company owes overdue interest on a loan, Pengyuan Credit Rating Co. said in a Feb. 9 report. It has to repay 540 million yuan of principal and interest on May 2015 bonds on May 20 and has an interest payment due on a separate note on May 5, Chinalin Securities said March 12.
The yield on the company's 2018 bonds rose to 18.7 percent March 20, compared with 8.4 percent on Dec. 31, exchange data show. An official who would only give his last name as Wang at the investment department of said Friday the company is in the process of solving the repayment problem.
Provincial branches of the National Development & Reform Commission issued a notice to local offices, asking for inspections of corporate bond issuers and underwriters to ensure funds for bond payments are ready, 21st Century Business Herald reported on Friday.
"It's necessary to allow a real default in China's bond market," China Chengxin's Zhang said. "More bailouts may lead to systemic risk."
— With assistance by Judy Chen
Before it's here, it's on the Bloomberg Terminal.
LEARN MORE