Pakistan Cuts Key Rate to Lowest in 13 Years as Inflation Slows
Khurrum Anis and Faseeh Mangi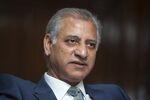 Pakistan cut its benchmark interest rate to the lowest in almost 13 years as a decline in global oil prices helped slow inflation in a nation wracked by political protests and terrorism.
State Bank of Pakistan Governor Ashraf Mahmood Wathra reduced the discount rate for a third straight month to 8 percent from 8.5 percent, the central bank said on its website on Saturday. Nine of 11 economists in a Bloomberg survey predicted the reduction, two estimated the rate being cut to 7.5 percent.
The lowest borrowing cost since December 2002 will help Prime Minister Nawaz Sharif encourage companies to expand in the nation that's recovering from the worst fuel shortage in recent memory and a school massacre that killed 152 people most of them children. Consumer prices last month rose at the slowest pace since Bloomberg started compiling data in 2009.
"The decision will help improve consumer confidence and we will see private sector borrowing rising," Yawar-uz-Zaman, vice president at Shajar Capital Pvt. in Karachi said by phone. "We forecast another 50 to 100 basis point reduction as inflation slows."
When Sharif took power in May 2013, he faced a balance-of-payments crisis that forced him to seek help from the International Monetary Fund. Foreign exchange reserves have doubled in the past year to $16 billion, the budget deficit has narrowed and inflation eased to 3.24 percent in February.
Pakistan's benchmark stock index has risen more than 60 percent in the period. The IMF forecasts Pakistan's economy to expand 4.3 percent this year, compared with the five-year average of 3.6 percent.
Political Protests
"Owing to recent foreign exchange inflows and lower oil prices, external sector outflows continue to improve," the central bank said in the statement. "The trend moderation in inflation is broad-based with food and non-food inflations receding."
Political protests last year to oust Sharif threatened to disrupt an economic overhaul. The slaughter of 134 students in December underscored the ongoing risk from Taliban militants, part of an insurgency that has killed more than 50,000 people since 2001.
Sharif canceled a trip to the World Economic Forum in Davos in January as fuel shortages left motorists stranded across the country. Shortly afterward, a terrorist attack triggered a blackout that left 80 percent of the country without power.
Before it's here, it's on the Bloomberg Terminal.
LEARN MORE