Obama Says Republicans Shouldn't Play Politics on Loretta Lynch Vote
Justin Sink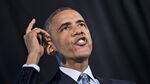 Congressional Republicans are delaying confirmation of attorney general nominee Loretta Lynch for political reasons, President Barack Obama said Saturday in his weekly radio and Internet address.
With Lynch's nomination stalled in the Republican-led Senate because of an unrelated impasse over an anti-child trafficking bill that includes anti-abortion language, the president is increasing his criticism of the party.
"Congress should stop playing politics with law enforcement and national security," Obama said.
Lynch, 55, would replace Attorney General Eric Holder, who is regularly criticized by Republican lawmakers and has said he'll remain in office until his successor is confirmed.
Lynch has undergone the longest confirmation process for an attorney general in three decades. Lynch had twice been approved by the Senate for her current job as a U.S. attorney. Democrats are eager for the Senate to hold the vote next week, before lawmakers depart for a two-week recess.
"Republicans promised that Congress would function smoothly with them in charge," Obama said. "Here's a small chance for them to prove it."
In an interview with Huffington Post on Friday, Obama blamed a dysfunctional Senate and "stubbornness on the part of Republicans" for the Lynch delay.