New Zealand Beats West Indies by 143 Runs at Cricket World Cup
Christopher Elser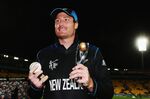 Martin Guptill's unbeaten 237 runs, a cricket World Cup record, allowed host New Zealand to beat West Indies by 143 runs to reach the semifinals of the championship.
Guptill hit 11 sixes and 24 fours while facing 163 balls to push his team to 393-6 at the end of their 50 overs in Wellington. West Indies got 61 from Chris Gayle, but were all out for 250 after 30.3 overs. It was a record score from 30 overs in World Cup history, but wasn't enough to better Guptill and New Zealand. He combined for 143 runs with Ross Taylor, who was run out on 42.
"We had a couple of good partnerships early, which set the game up," Guptill said in televised comments. "After I got the 100, I just thought I should probably hit a few boundaries. Let this win sink in, we will think of the semifinal after that. The 237 hasn't really sunk in. We still have a lot of work to do, so can't dwell too much on this."
New Zealand will take on South Africa, which got past Sri Lanka in a March 18 quarterfinal, for a place in the March 29 final. Neither team has made it to a previous World Cup title match.
Yesterday, Australia defeated Pakistan by six wickets to reach the semifinals in Sydney on March 26. It will face defending champion India, which beat Bangladesh by 109 runs a day earlier.
Before it's here, it's on the Bloomberg Terminal.
LEARN MORE