Finland May Lose Top Fitch Rating Amid Stagnation, Rising Debt
Kati Pohjanpalo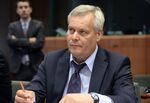 Finland came a step closer to losing its top credit grade at Fitch Ratings as divisions within the government led to a failure to stem the growth of public debt.
The outlook on the northernmost euro member's long-term AAA rating was reduced to negative from stable, the rating company said in a statement Friday. While the statement affirmed the top rating, slow economic growth and mounting debt could lead to a cut, Fitch said.
Finland's government has allowed public debt to double since 2008 as economic growth proved elusive. It's also missed all its key economic goals over the past four years and this month oversaw the collapse of a key health-care overhaul.
"Our population is aging, which weakens potential economic growth," Finance Minister Antti Rinne said in an interview Saturday on YLE TV1. "We also have a structural problem with exports; we now need export-led economic growth. To restore the balance in public finances, we also need to cut spending and increase revenue."
Standard & Poor's cut Finland's top rating by one level in October, citing the prospect of protracted stagnation, while Moody's Investors Service has the Nordic nation at its highest Aaa level. Fitch reduced its forecast for Finnish growth to 0.5 percent this year from 1.1 percent and said growth will accelerate to 1.3 percent next year.
Cheap Borrowing
Finland's debt costs don't reflect the country's economic hardship and declining revenue base. The country last month became the first euro-area sovereign to sell five-year debt in a primary issue at a negative yield, spurred by the European Central Bank's quantitative easing. That means investors buying the securities will receive less back than they paid for the notes if they hold them to maturity.
Prime Minister Alexander Stubb's government lags behind the opposition Center Party in polls, with a general election approaching on April 19.
"There is a degree of consensus across the political spectrum on the future direction of macroeconomic policy," analyst Alex Muscatelli at Fitch wrote in the statement. "We therefore expect that the new government will remain committed to ensuring public debt sustainability through a mix of fiscal adjustments and structural reforms."
In the euro area, only Germany and Luxembourg have the highest ratings at S&P, Moody's and Fitch. Some investors shrug off ratings actions, as evidenced by the short-lived market impact of S&P's downgrade of the U.S. in 2011.
Before it's here, it's on the Bloomberg Terminal.
LEARN MORE