White House Questions Netanyahu's Backtrack on Two-State Plan
Toluse Olorunnipa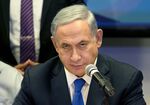 The Obama administration questioned whether Israeli Prime Minister Benjamin Netanyahu has backed away from a campaign statement opposing a two-state solution in the Middle East and repeated that the U.S. is reassessing its policy toward Israel.
There were no signs that a phone call between President Barack Obama and Netanyahu on Thursday narrowed a rift in the main U.S. alliance in the Middle East, nor that the Israeli leader clarified his stance on negotiating with the Palestinians to the president's satisfaction.
The strain in the relationship increasingly has been marked by public criticism of Netanyahu by the administration.
"Words matter," White House press secretary Josh Earnest said Friday. "The divergent comments of the prime minister legitimately call into question his commitment to this policy principle and his lack of commitment to what has been the foundation of our policy making in the region."
The Obama administration's reassessment includes whether to use the U.S. veto at the United Nations Security Council on behalf of Israel. Despite the rocky relationship with Netanyahu, U.S. security cooperation and military assistance won't be affected, according to Earnest.
Netanyahu defied the White House by delivering a speech to the U.S. Congress this month asking lawmakers to oppose a nuclear deal with Iran that Obama supports. On Monday, the day before Israeli voters went to the polls, Netanyahu told the NRG news website that he wouldn't agree to the establishment of a Palestinian state if he won a fourth term.
Changing Circumstances
He has since given several interviews in which he said he supports establishment of a Palestinian state and blaming the current Palestinian leadership for the stalemate. "I want a sustainable, peaceful two-state solution, but for that, circumstances have to change," he said on MSNBC Thursday.
Earnest said Netanyahu's pre-election comments showed evidence that he isn't committed to a policy that has been strongly supported by previous U.S. administrations and members of both parties in Congress.
Earnest declined to say whether Netanyahu affirmed a commitment to Palestinian statehood during his call with Obama. Clarification of Netanyahu's position "was not the result of the call," Earnest said.
Security Cooperation
Israel is the biggest recipient of U.S. military assistance, getting a record $3.1 billion of such aid in 2014. The Obama administration has supplied $2.9 billion for missile-defense programs, including Israel's vaunted Iron Dome system. In addition, the U.S. and Israel share intelligence and conduct military exercises together.
Other allies also have put pressure on Netanyahu. French President Francois Hollande said that during his congratulatory call to Netanyahu on Friday he told the Israeli leader that "he must face up to the need for negotiations with the Palestinians."
German Chancellor Angela Merkel, in her call, emphasized the German government's position "that Israel's security can best be ensured in the framework of a two-state solution," according to her spokesman.
White House chief of staff Denis McDonough will give the keynote address Monday at the national conference of J Street, a Washington-based pro-Israel group that has backed Obama's nuclear negotiations and favors a two-state solution.