U.K. Has Smallest February Budget Deficit Since 2008 on Tax
Scott Hamilton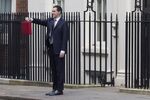 Britain had its smallest budget deficit for any February since 2008 as the late arrival of self-assessed tax filings boosted government revenue.
Net borrowing excluding public-sector banks was 6.9 billion pounds ($10.2 billion) compared with 10.4 billion pounds a year earlier, the Office for National Statistics said Friday. The median forecast in a Bloomberg survey was 8.4 billion pounds. Revenue surged 7.2 percent and government spending fell 0.7 percent.
With the May general election on a knife edge, Chancellor of the Exchequer George Osborne is seeking to persuade voters that only his Conservative Party can be trusted to safeguard the recovery and erase a budget deficit that still amounts to 5 percent of gross domestic product. In his budget Wednesday, he held out the prospect of an end to austerity within four years. The Labour opposition says the Tories are planning "extreme" spending cuts in the meantime that would damage public services.
Osborne received a boost last month as the Treasury received final tax payments for 2013-14, a fiscal year that benefited from individuals shifting income to take advantage of a cut in the top tax rate. The Jan. 31 deadline for filing tax returns fell on a Saturday this year, meaning many people paid in February.
In the first 11 months of the fiscal year, the budget deficit narrowed to 81.8 billion pounds as income-tax receipts jumped 4.9 percent to a record 153.9 billion pounds.
'Achievable' Forecast
That raises the possibility that Osborne could undershoot the forecast for 2014-15 announced by the Office for Budget Responsibility just two days ago. A shortfall of no more than 8.4 billion pounds in March is needed to meet the new projection.
"This should be achievable given there was a shortfall of 7.8 billion pounds in March 2014," said Howard Archer, an economist at IHS Global Insight in London.
The OBR, an independent panel that oversees forecasting for the Treasury, trimmed its deficit projections to 90.2 billion for 2014-15 and 75.3 billion pounds in 2015-16.
In February, income tax receipts rose 16 percent from a year earlier to 18 billion pounds, the most for the month since 2008. Self-assessed income surged 73 percent to 4.2 billion pounds, the highest February since 2010. In January and February together, income tax totaled 44.8 billion pounds, the highest for the period since records began in 1997.
The fall in government spending was aided by a 9.3 percent drop in interest costs as record-low inflation reduces payments on index-linked gilts.
The central-government cash requirement last month was 3.5 billion pounds.
The pound was little changed against the dollar at $1.4755 as of 10:41 a.m. London time. It fell 0.3 percent against the euro to 72.49 pence per euro.
Before it's here, it's on the Bloomberg Terminal.
LEARN MORE