U.K. Independence Party Suspends Two Candidates, Loses Another
Robert Hutton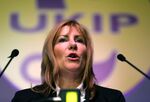 The U.K. Independence Party suspended two of its parliamentary candidates and saw a third resign in the space of 24 hours.
The party late on Thursday suspended Janice Atkinson, a member of the European Parliament and its candidate in the House of Commons district of Folkestone, after the Sun newspaper filmed her chief of staff asking a bar to produce an inflated receipt for an event, so that she could overcharge the European Parliament for her expenses.
"I was deeply shocked when I saw it," leader Nigel Farage told LBC radio. "It was one of the most incredibly stupid and dishonest things I've ever seen in my life. This was a member of staff. Exactly what the relationship between that member of staff asking for a false bill and Janice Atkinson is, I don't know."
UKIP, which didn't win a single parliamentary seat in the 2010 election, has picked up two in the past six months and is now polling in third place nationally on its campaign to curb immigration and see Britain withdraw from the European Union. It is forecast to win as many as six seats in the May 7 election.
On Friday, the party also said that it was suspending Stephen Howd, its candidate in Scunthorpe, while an investigation is carried out into an incident at his workplace. And it said Jonathan Staley, its candidate in Westmorland and Lonsdale, had resigned over differences with UKIP.
"I have given my full resignation to the party because of issues happening in Scotland: open racism and sanctimonious bullying within the party," Staley, a surgeon, told the Westmoreland Gazette.
The party declined to give more details on Howd's case, except to say that he strongly disputes the allegations against him.
In his LBC interview, Farage said he had been unable to "get a clear answer" from Atkinson and she would now face a disciplinary hearing. She didn't respond to an e-mail to her office requesting comment.
Before it's here, it's on the Bloomberg Terminal.
LEARN MORE