Two More Big Companies Just Said the Strong Dollar Is Hurting Business
International brands are feeling the pain.
by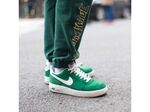 As the dollar rally continues, two more big names just said that the greenback's rise is continuing to hurt their business. 
Nike reported third-quarter results yesterday, and the world's largest sporting-goods maker said sales in Western Europe gained 10 percent last quarter, although that would have been a 21 percent increase without the weaker euro. Nike generates more than half its revenue overseas.
Nike Chief Financial Officer Donald Blair addressed the currency headwinds on the earnings call. "Over the last 90 days the U.S. dollar has appreciated against virtually every other major currency. There's no question that this has and will continue to have an impact on multinational companies, including Nike."
The stock is still rallying today as such companies as Barclays said that its underlying business continues to be strong despite the FX concerns, as North American sales remain strong.

Tiffany & Co. isn't faring as well, falling more than 3 percent after predicting a 30 percent decline in net income. The stronger dollar hit Tiffany particularly hard by lowering the value of overseas sales and making it less attractive for foreign tourists to shop at stores in the U.S.
"Tiffany is facing challenges from global economic uncertainties, especially from the effect of a strong U.S. dollar. ... As a result, we have adopted a cautious approach in our planning for the coming year," President Frederic Cumenal said in the statement.

The dollar's strength hurts multinational companies, such as Nike and Tiffany, since goods sold overseas are converted into dollars, causing those sales to take a hit. In the past year the euro has fallen about 21 percent against the dollar.

Before it's here, it's on the Bloomberg Terminal.
LEARN MORE