Two Fed Officials Say Stronger Dollar a Factor for U.S. Outlook
Steve Matthews, Jeff Kearns and Christopher Condon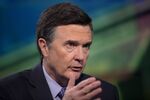 Two Federal Reserve officials who vote on policy this year acknowledged that a stronger dollar was a headwind for growth, as the U.S. central bank weighs increasing interest rates for the first time since 2006.
"I have raised my level of concern about a strong dollar," and its impact on net exports and growth, said Atlanta Fed President Dennis Lockhart, who nonetheless viewed a rate rise as warranted in June, July or September.
The Fed this week dropped a pledge to be "patient" in raising interest rates, saying instead it would wait until policy makers were "reasonably confident" that inflation is moving back to its 2 percent target. Dropping "patient" put a rate rise into play at any meeting of the policy-setting Federal Open Market Committee starting in June. The FOMC also meets in July, September, October and December.
The dollar has risen more than 5 percent since the start of the year, according to the Bloomberg Dollar Spot index, which tracks its performance against 10 major rivals, although the greenback has retreated since the Fed's action on Wednesday. The currency weakened after officials lowered projections for the benchmark federal funds rate at the end of 2016 and 2017.
Lockhart balanced his dollar remarks by noting that the currency changed his view to a modest extent and was "not a game changer."
Lower Projections
Chicago Fed chief Charles Evans, who still thinks the central bank can hold rates near zero until 2016, indicated a stronger dollar was one reason the Fed's quarterly forecasts had been cut, compared with officials' projections in December.
"The dollar has appreciated over that time period and we have to look at and assess what the implications of those developments are for the growth potential going forward," he told reporters at an event in Washington on Friday. "It makes sense that that was going to lead to a little bit of softening, probably transitory, for net exports and also for the imported goods prices in keeping inflation down a little bit," he said.
Officials cut their median estimate for the federal funds rate at the end of 2015 to 0.625 percent, compared with 1.125 percent in December forecasts. The 2016 estimate fell to 1.875 percent from 2.5 percent, according to the FOMC's quarterly Summary of Economic Projections.
Fed Chair Janet Yellen acknowledged during a press conference after the FOMC meeting that a strong dollar was a headwind for U.S. exports, while also reflecting a stronger U.S. economy.
Asked about the currency's rise Friday, Treasury Secretary Jacob J. Lew said it's tied to the strength of the world's largest economy relative to others around the world. He cited Europe as a laggard.
"A strong dollar is good for America, and it reflects a strong U.S. economy," Lew said in Miami. "You look at the global economy today, and the fact that the U.S. economy is strong and is generating demand, and then we look around the world, and relatively speaking, economies are in weaker shape, is the core of the problem. We need more demand overseas."
Before it's here, it's on the Bloomberg Terminal.
LEARN MORE