The UN Has Your Playlists for Its International Day of Happiness
Sangwon Yoon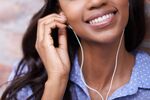 Forget Ukraine, Iran's nuclear program and Islamic State. Friday is the International Day of Happiness, and the United Nations has the world's happiest playlists ready.
The UN joined with various celebrities and two online music streaming services, Pandora Inc. and MixRadio, to compile collections of music designed to make the world joyful.
Pharrell Williams, who won a Grammy Award for the song "Happy," created a station on Pandora that features songs by artists including Jamiroquai, the O'Jays and Ray Charles. The playlist on MixRadio, curated by Australian singer and actor Cody Simpson, showcases favorite songs of celebrities such as actor Charlize Theron, Chinese pianist Lang Lang and French disc jockey David Guetta.
"In a year where there is so much turmoil in the world, from social conflict to climate change, we need moments to stop and celebrate happiness," said Williams, the Grammy-winning musician. "We believe that happiness can change the world."
One playlist includes "Kiss" by Prince, at the suggestion of Britney Spears, who said on the MixRadio website that the song makes her want to dance. "Zip-a-Dee-Doo-Dah" by James Baskett was included at the request of actor Michael Douglas.
James Blunt, the British pop singer who served in Kosovo as an British Army officer, said on the MixRadio site that he'll be listening to "We Are Young" by Fun. Ed Sheeran, another British singer-songwriter, recommends listening to his favorite happy song: "Independent Woman" by Destiny's Child.
Once the music is on, you, too, can join the "Global Happy Party" by uploading photos and tweets under hashtags #HappySoundsLike, #happyday and #happyplanet, the UN Foundation said.
'Universal Language'
"On this day, we are using the universal language of music to show solidarity with the millions of people around the world suffering from poverty, human rights abuses, humanitarian crises and the effects of environmental degradation and climate change," UN Secretary-General Ban Ki-moon said in a video.
"Happiness may have different meanings for different people," Ban said. "But we can all agree that it means working to end conflict, poverty and other unfortunate conditions in which so many of our fellow human beings live."
"The pursuit of happiness lies at the core of human endeavors," he said, adding that he is happiest when he listens to "Signed, Sealed, Delivered" by his Messenger of Peace Stevie Wonder.
Since 2012, when the UN General Assembly declared Mar. 20 the International Day of Happiness and recognized happiness as a basic human right, the number of people killed in terrorist attacks and the world's 20 bloodiest wars have increased by at least a third. The UN is struggling to help the largest number of refugees and people in need of humanitarian aid that it has seen since it was created in 1945.
Displaced Persons
More than 51.2 million people have been forced out of their homes to become refugees, displaced people or asylum seekers, according to the UN.
In December, the UN's aid coordination office made its biggest humanitarian aid appeal ever, asking donors to provide $16.4 billion. The funds will pay for aid which will be delivered throughout this year to an estimated 78 million people in need in 12 major crises spanning 12 countries, the office said.
Poll Results
Even so, the world is generally happy, with at least 70 percent of adults in 143 countries reporting that they laugh a lot and are well-rested, according to the annual Positive Experience Index conducted by Gallup Inc. Syrians are the saddest people in the world, while Paraguayans are the happiest, according to Gallup's latest data.
People in war-torn Syria are missing from the list because the report was issued before their data were finalized.
Gallup last year asked people 15 and older in 143 countries if they had five positive experiences on the day before the survey. More than 70 percent of people worldwide said they experienced a lot of enjoyment, smiled or laughed a lot and felt well-rested and treated with respect.
The telephone and face-to face interviews with approximately 1,000 people in each country carried margins of error ranging from plus-or-minus 2.1 percent to plus-or-minus 5.3 percent, according to Gallup.
Before it's here, it's on the Bloomberg Terminal.
LEARN MORE