Car Reviews
The BMW i3 Is a Peppy, Efficient Pain in the Back
The mid-price model from BMW's electric "i" range is an odd-looking, hard-braking do-gooder
By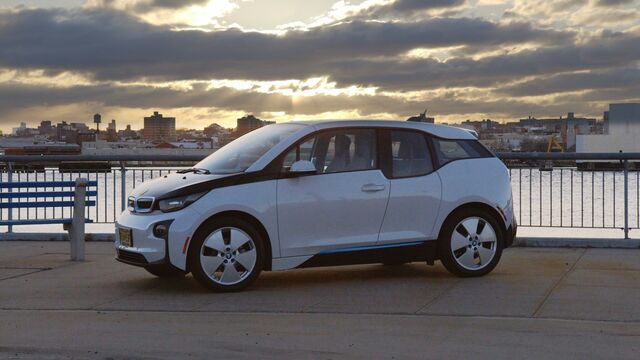 Here's the difference between an optimist and a pessimist.
An optimist drives the BMW i3 electric car and marvels at how great it is that he has only to lift his foot off the accelerator for the car to stop. The moment the foot releases pressure, the regenerative braking system will make actual braking—placing your foot on the pedal and pressing down—unnecessary. The car slows dramatically on its own.
A pessimist drives the BMW i3 electric car and finds himself annoyed that those blasted regenerative brakes make it feel like you're stutter-stepping through every stoplight.
I tended toward the latter. It could be a character defect. I'm OK with that.
Immediate deceleration is not the defining characteristic of the car—the oblong body, 117-mpg efficiency, and variety of interior materials are all good candidates for that—but the sensation certainly commands your attention. And it gets more wearisome over time.

This was part of the main problem for me with the i3—it might well be fun to drive for just an hour or two on a warm, sunny day. It's quiet as it runs, with plucky bursts of speed effective for jumping through traffic, even if it does take more than seven seconds to hit 60 mph. And with its excellent rearview camera, alert proximity sensors, and a body 19 inches shorter than a Porsche 911, you can parallel park it with your eyes closed. (But don't.)
But I drove the four-door plug-in for many hours on multiple days through Manhattan traffic and Red Hook cobblestones. Its smooth acceleration and near-silent motor/engine combo helped make the seat-time endurable, but after four, five, six hours in the car, the muscles in my back felt like ground chuck. The flat cloth seats have almost no padding to save you from road fatigue—although I did use their heating function a lot.
And there, again, is a conundrum: See, the seat heaters don't work when the i3 is in Eco-Plus mode, the most efficient of its three drive modes. They do work with its other two settings—Comfort and Eco—but if you use those, you reduce the effectiveness of the battery charge, which is supposed to let you travel 70-plus miles at its most efficient. Over a long week of driving (and short luck finding functioning charging stations in the city), anything that diminished my driving range made me nervous.
The prospect of twiddling your thumbs for four hours to wait for a full charge would scare any New Yorker, myself included. I opted for tenderized deltoids.
Extended Range

BMW launched the i3 last year as part of its electric range of cars. (They're the ones with "i" in the name—i stands for "innovation.") The $140,000 i8 supercar is the cool one that looks like a spaceship. The $45,200 i3 is the sidekick. Compare it against the Nissan Leaf, the Smart Fortwo, or the upcoming hybrid Mini. Do not compare it to, say, a Tesla S, even though both use electric technology. The Model S is a proper luxury sedan. It's faster, more powerful, more expensive, and much better-looking.
This one is better used to augment a garage already well-stocked with conventional models. It's a Sunday drive-rather-than-weekend road trip proposition.
The version I drove paired a 170-hp motor and range-extending two-cylinder rear-wheel-drive engine. They averaged 117 mpg and roughly 140 miles on a full charge and full tank of gas. (That soundly beats the Toyota Prius Plug-in Hybrid, which gets only 11 miles in electric-only mode and 50-mpg combined efficiency; it also beats the Chevrolet Volt and Cadillac ELR.) It takes about 20 hours to charge unless you buy the quick-charge system BMW also sells, which fills it in fewer than four.
Serenity Now
I was happy to find that the i3 comes with all of the conveniences of BMW's intuitive iDrive system. It also has as standard auto-dimming mirrors, rain-sensing wipers, automatic climate and cruise control, and advanced safety systems. You can choose to spend more money on alloy wheels, rearview cameras, keyless entry, Harman\Kardon sound, and those aforementioned heated seats if you want.
The interior of the carbon-fiber "passenger shell" is spacious, with a clear pass-through at the feet of the front seats and enough headroom to accommodate four tall adults. It also positions the driver and passengers well for a decent view of the road: The high seats put you eye-level with people in sedans and crossovers that far outsize the i3, so there's no awkward ingress for larger men or ladies in skirts.
I also liked its wide dashboard, streamlined instrument clusters, and generous allotment of ambient lighting. Along with the faux wood and wool cloth trim, they made the interior of the i3 feel serene. Sitting motionless inside the i3 has a calming effect.

Cosmetic Quirks
The exterior of the car evokes far less serenity.
I suppose some Silicon Valley first-adopters and Prius enthusiasts looking to upgrade may appreciate the i3's shrunken grille, plain sides, and boxy rear end; they may celebrate the waved wraparound of its rear windows. But I found myself wondering why the i3 couldn't look more like the i8—or at the very least less like a futuristic shopping cart.
Maybe the guy who knocked on the window earlier today as I sat parked on Madison Avenue was closer to the majority in this regard.
He asked if I liked it. I told him, "It's OK," then said, "Do you like it?"
He gave it a once-over and scratched his head: "I've been a BMW guy for 40 years—I'm just not sure."
Before it's here, it's on the Bloomberg Terminal.
LEARN MORE