Shale Producers Have Found Another Lifeline: Shareholders
Bradley Olson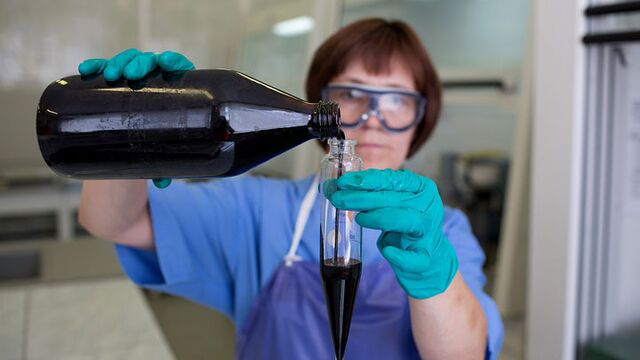 U.S. oil producers are issuing new shares of stock at the fastest pace in more than a decade, looking to investors for a cash lifeline to pay down debt and keep drilling as crude prices continue to sink.
Tapping equity markets has become the best option for companies such as Dallas-based RSP Permian Inc., which announced March 17 it's seeking to raise as much as $232 million by selling additional shares. Calgary-based Encana Corp. and Noble Energy Inc. of Houston also have issued shares in the past two months to reduce debt.
That brings funds raised in the first three months of the year to about $8 billion, more than 10 times the total in the same period last year. As the continued slide in oil prices further crimps cash flows, banks are pressuring these companies to shore up their capital and reduce debt to lower servicing costs and provide wiggle room.
"There aren't really any better alternatives right now," Chad Mabry, an analyst at MLV & Co. LLC in Houston, said in a telephone interview.
A growing acceptance that low prices will persist has convinced producers to turn to equity markets while they still can, he said. "They're preparing for the worst."
Few saw issuing new stock as an attractive option when the oil market first started crashing late last year because it would dilute the value of stock held by existing shareholders at a time when their holdings already were hurt by falling prices.
Changing Interest
As recently as December and January, many producers assumed there would be little interest in pouring more money into the sector, and that funding from debt or equity wouldn't materialize, said Rob Santangelo, co-head of equity capital markets Americas for Credit Suisse Group AG.
That began to change in February when prices seemed to stabilize and frozen credit and equity markets opened up. The $8 billion in stock issued in the first three months of 2015 is the highest of any quarter in more than a decade. If the pace continues, sales of new equity would surpass the total of 2008 and 2009 combined, the last time oil prices crashed, according to data compiled by Bloomberg.
The surge in equity offerings, even with the dilution of existing shareholders, now is widely considered the lesser of evils versus expensive borrowing or asset sales at reduced prices, said Troy Eckard, whose Eckard Global LLC owns stakes in more than 260 North Dakota shale wells.
Debt-Free
"Equity does not have to be paid back and requires no disbursements of revenue and net profits," Eckard said. "It buys into your plan and works for companies that can make it through the downturn in commodity prices."
Investors are coming to the table in the belief they are buying in at the bottom of the market and will reap gains in the long-term as oil prices recover, said Christian O'Neill, an energy analyst at T. Rowe Price International Inc., which owns shares in numerous producers.
"Many executives are expecting a longer downturn," O'Neill said in an interview. "Some companies that have issued shares have attractive long-term growth profiles. For others it is a function of trying to survive and buy themselves more time."
Carrizo Oil & Gas Inc., which has debt that makes up a far lower percentage of its market value than other shale producers, announced March 16 an offering of $204 million worth of stock to pay down debt. Carrizo's debt hasn't traded at a significant discount in the past six months, a sign that investors are bullish about its prospects.
Shoring Up
"We like that Carrizo is taking advantage of an open market to shore up the balance sheet," Tudor Pickering Holt & Co. wrote March 17 in a note to investors.
Encana and Noble, both of which have retained investment-grade credit ratings, have each sold shares as well, offering about $1 billion each this month and last month, respectively.
Even successful equity offerings come at a price in today's market. To raise that $1 billion late last month, Noble had to sell 21 million shares at a price of $47.50 each. Six months ago when its stock traded for $76.71 a share, the Houston-based company would have sold 13 million shares to raise the same amount.
Carrizo's offering of 4.5 million shares for $45.50, which generated about $205 million in cash, would have required just 3.2 million shares in June, when the Houston-based company's shares sold for about $65 apiece.
Debt Ratios
Equity sales by producers in a weaker position have not been as readily embraced by the market. Houston-based Rosetta Resources Inc.'s shares fell 6.5 percent after announcing a $204 million offering March 9.
Since June, when crude began to decline, Rosetta's market capitalization has fallen 63 percent while debt is $2 billion. That ratio of debt to market value is higher than average compared to 73 companies that specialize in shale production, according to data compiled by Bloomberg.
Oil companies that borrowed record amounts over the past several years to accelerate drilling during the boom days have swelled the U.S. market for energy-related high-yield bonds to $201 billion from $65.6 billion at the end of 2007, according to Bank of America Merrill Lynch index data. The extra yield, or spread, that bond investors are demanding to own the typical junk-rated energy security has more than doubled since June to 7.44 percentage points above government debt, the index shows.
Ugly Outlook
That compares to an average spread of 4.82 points since the inception of the data in 1996, suggesting investors see higher risk and an uglier outlook for the industry.
As oil prices continue to fall, reaching a six-year low of $43.46 a barrel on March 17, funding options are becoming increasingly limited. Fewer companies are willing or able to buy assets as debt becomes increasingly expensive, and operators who have painstakingly built up their drilling land holdings over years are loath to part with them if they can find alternatives.
The price of West Texas Intermediate crude futures, the U.S. benchmark, gained 3.9 percent to $45.69 a barrel at 10:01 a.m. on the New York Mercantile Exchange.
Investor appetite for new shares of smaller companies may be short lived, forcing those companies to use debt and other sources of funding at significantly higher rates, analysts from Bank of Nova Scotia said in a note Wednesday.
Hedge fund and private equity investors including Blackstone Group LP and KKR & Co. are raising billions for new funds created in the past few months to invest in distressed oil producers.
Managing Liquidity
Many banks are working with producers to help them manage their balance sheets and reduce debt as they face a potential reduction of their borrowing limits, said Eric Scheyer, the head of hedge fund Magnetar Capital's energy business, who oversees a group that manages nearly $4 billion.
"When companies are looking at an environment where the price of crude is very uncertain, they need to manage liquidity," said Scheyer, whose firm invests in the equity and debt of energy producers. "For some, they don't issue debt because their leverage levels are too high, they have debt-to-equity levels that are substantially different than they were last summer."