Pirelli's Top Investor Camfin Said to Discuss Sale to ChemChina
Dan Liefgreen, Siddharth Philip and Jonathan Browning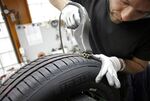 Pirelli & C. SpA's biggest shareholder is holding talks with ChemChina about a deal that could lead to a public takeover offer, people familiar with the matter said.
China National Chemical Corp., as the state-owned company is formally called, is in talks with Cam Finanziaria SpA, which holds 26.2 percent of Pirelli, said the people who asked not to be identified because the discussions are private. Calls made to ChemChina's Beijing headquarters went unanswered.
Camfin, as the investment company is known, said Friday that it's seeking to transfer its stake to an unidentified "international industrial partner" for 15 euros per share, valuing the tiremaker at about 7.1 billion euros ($7.6 billion). Once the stake transfer is agreed to and finalized, a public tender offer would be made for the rest of the Milan-based company, Camfin said.
The talks come as larger competitors Michelin & Cie. and Continental AG seek to expand with acquisitions, particularly in Asia. For ChemChina, a deal would allow it to leap onto the international stage with Pirelli's high-end tires.
The prospect of a shareholder change caused Pirelli's stock to jump as much as 6.1 percent to 15.81 euros, the highest intraday price since March 2002, and was up 4.4 percent at 12:52 p.m. in Milan.
Fertilizers, Pesticides
Pirelli, Europe's third-largest tiremaker, is one of the most prominent names in Italian industry. The company was founded in Milan in 1872 by Giovanni Battista Pirelli. Over the next century, it expanded into cables, telecommunications and real estate. In 2001, Pirelli Chairman Marco Tronchetti Provera engineered a takeover of Italy's biggest phone company, Telecom Italia, before deciding to sell out in 2007 and again focus on the tire business.
ChemChina owns Aeolus Tyres. The unit is part of operations that include oil processing products, fertilizers, pesticides and chemical equipment. In 2013, ChemChina generated revenue of 244 billion yuan ($39 billion), according to its website.
Under the proposed agreement, Pirelli would keep its headquarters in Italy, and the stake would be held by a newly formed Italian company that would be controlled by the partner, Camfin said.
The transaction is aimed at "guaranteeing stability, autonomy and continuity for the Pirelli group's path to growth over time," Camfin said. The company is jointly owned by an investment vehicle of Russian oil producer OAO Rosneft and Pirelli's chairman.
Under Tronchetti Provera, Pirelli has sought to focus on the so-called premium segment, including tires for Formula 1 race cars. In February, it reported 2014 earnings before interest and taxes of 838 million euros, up from 785 million euros in 2013, with revenue of 6 billion euros.
Pirelli said in a separate statement that it hasn't received any formal communication about the the offer.
Before it's here, it's on the Bloomberg Terminal.
LEARN MORE