Obama Reviewing Troop Withdrawal Timetable Ahead of Afghan Talks
Justin Sink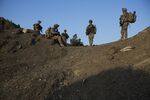 President Barack Obama is reviewing his schedule for withdrawing U.S. forces from Afghanistan and may have some decisions to present to Afghanistan President Ashraf Ghani during their meeting next week, officials said.
Obama and Ghani have discussed the Afghan leader's request for more "flexibility" on the withdrawal timetable during video conferences over the past four months, and the issue is being deliberated by administration's national security team, Jeff Eggers, the National Security Council senior director for Afghanistan and Pakistan, said Friday.
Eggers emphasized that "no decisions have been made" before Ghani arrives for scheduled meetings with Secretary of State John Kerry on Monday and with Obama at the White House on Tuesday. Obama and Ghani will have a news conference.
The review of troop levels reflects deepening concern among U.S. officials about whether the Afghan military is equipped to secure the country after the departure of U.S. troops. American officials are concerned that a Taliban-based insurgency or the Islamic State could throw the country into chaos.
Earlier this week, the president reviewed recommendations on the withdrawal timeline produced by the commander of U.S. forces in Afghanistan, General John Campbell. Along with Obama and Kerry, Ghani is set to meet with Defense Secretary Ashton Carter and Treasury Secretary Jacob Lew as well as with members of Congress.
Counterterrorism Operations
The president's timetable currently calls for drawing down to about 5,500 troops from a residual force of around 10,000 by the end of this year. The remaining troops are primarily focused on counterterrorism operations and training the Afghan military.
The U.S. plans to remove those soldiers -- except for a small, Kabul-based contingent to protect U.S. facilities -- by January 2017.
U.S. officials wouldn't say whether revising their plans for troop withdrawals over the next year meant pushing back that January 2017 deadline.
"It's natural that the discussions that have been taking place with some degree of specificity" have focused on the near term, Eggers said. The administration's goal continues to be having only a Kabul-based presence by 2017, he said.
Afghan officials have also said that keeping U.S. troops in the region could help reconciliation talks between the Taliban and Kabul. Neighboring Pakistan has been working to help facilitate a possible diplomatic agreement.
The U.S. has spent $65 billion so far helping to build up Afghanistan's army and police force, and officials said that financial assistance would continue even as troops came home.