Watches
Melchior Is a $35,000 Swiss Robot That Tells Time
MB&F brings the whimsy for its 10th anniversary
By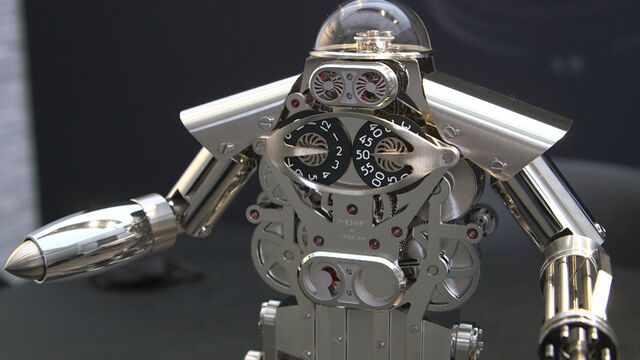 After more than a dozen mechanical creations, ranging from avant-garde interpretations of classic pocket watches to a music box shaped like the USS Enterprise, MB&F is still surprising us. Meet Melchior. He's a 1-foot-tall robot that has articulated arms, is made entirely in Switzerland, and, of course, tells the time. It's one of the more fun debuts here at Baselworld 2015.
MB&F founder Max Busser says he's wanted a robotic friend ever since he was a Star Wars-obsessed child, so he jumped on the opportunity to finally create one for his brand's 10th anniversary. 

Melchior is a table clock made in collaboration with L'Epée, a traditional Swiss clockmaker that MB&F previous worked with on its Starfleet Machine clock. The clock movement is Melchior's body and has five power barrels that provide it with a 40-day power reserve (the gauge is down around the robot's waist). This means you need to detach the machine gun-shaped arm that doubles as the winding and setting key fewer than 10 times per year. The mechanism makes an incredible heavy clicking sound as you turn the key, almost shaking the table on which you've sat Mr. Melchior. (A creation like this deserves some honorifics.)

The time is displayed by two black discs on Melchior's chest, with hours on the left and minutes on the right (the result looks a lot like a digital time display). The hour disc jumps to the next digit at the top of each, while the minutes constantly sweep. Under the domed sapphire glass skull is the escapement, beating out the time with an audible ticking. His eyes also have little red markers inside of them that count up to 20 seconds before snapping back to zero. 

Is Melchior a little crazy? Absolutely, but that's why it's charming.
MB&F makes no assertion that Melchior is the "it" accessory for 2015. If you share Busser's sense of whimsy and imagination and, of course, have the means to acquire it, Melchior is sure to bring you more smiles than another simple dress watch. This is where watchmaking crosses from craft to art—and suddenly my desk is looking very, very empty.
Melchior is a limited edition of 99 pieces (plus one special piece that will be donated to a charity auction later this year) priced at 35,000 Swiss francs ($35,750) before taxes.
Before it's here, it's on the Bloomberg Terminal.
LEARN MORE