Labour Raises Tory Health-Cuts Specter in Broken-Bone Poster
Eddie Buckle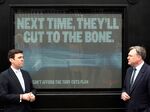 The opposition Labour Party published its first campaign poster for the May 7 U.K. election, accusing Prime Minister David Cameron's Conservatives of getting ready to cut health spending if they win a second term.
"Next time, they'll cut to the bone," reads the headline above an X-ray picture of a fractured limb. "The NHS can't afford the Tory cuts plan."
Labour leader Ed Miliband has made the future of state-funded health care a central theme of the party's bid to regain power, arguing the National Health Service will be hit by Conservative proposals to cut government spending over the next three years. Cameron says he's committed to the NHS, under which most treatment is free at the point of delivery.
Tory Chancellor of the Exchequer George Osborne's budget on Wednesday "set out plans for deeper and more extreme spending cuts after the election," Labour's finance spokesman, Ed Balls, said in an e-mailed statement. "People will conclude that to make their sums add up the Tories will end up cutting our NHS."
Labour has said it intends to hire more nurses and family doctors, paid for by closing tax loopholes and putting a levy on homes valued at more than 2 million pounds ($3 billion).
Polls show the two main parties neck and neck, with neither set to win a parliamentary majority.
Before it's here, it's on the Bloomberg Terminal.
LEARN MORE