Labor Gains in U.S. Data Favor Staffing Stocks: Chart of the Day
David Wilson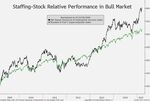 Indications that the U.S. labor market is stronger than the unemployment rate would suggest are positive for the shares of staffing companies, according to Sean Darby, Jefferies Group Inc.'s chief global equity strategist.
As the CHART OF THE DAY shows, the industry group's recent performance reflects this kind of optimism. A Standard & Poor's index of human-resource and employment companies pulled ahead of the Standard & Poor's Supercomposite Index by the widest margin since stocks began a bull market in March 2009.
The staffing-industry gauge had one of this year's 10 biggest gains, 13 percent, as of yesterday among 149 industry groups in the Supercomposite. The broader index is comprised of every stock in the S&P 500, MidCap 400 and SmallCap 600 indexes.
Consistent monthly increases in a Federal Reserve index of labor-market conditions show "a much better environment" than February's 5.5 percent unemployment rate does, Darby wrote in a report three days ago. The Fed's indicator rose 4 percent last month, extending a streak of gains that began in July 2012.
Growth in the number of Americans being hired and in the percentage of small businesses looking to add workers are also favorable, the Hong Kong-based strategist wrote. The statistics come from the Labor Department and the National Federation of Independent Business, respectively.
ManpowerGroup Inc., the largest U.S. staffing company by revenue, and On Assignment Inc., a specialist in health-care workers, have buy ratings at Jefferies. Both were cited in Darby's report.
Before it's here, it's on the Bloomberg Terminal.
LEARN MORE