Italian Transport Minister Resigns Amid Public Works Probe
Chiara Vasarri and Lorenzo Totaro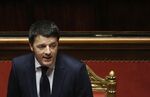 Italian Transport Minister Maurizio Lupi stepped down, ceding to pressure from his political opponents to resign after his name was linked to a graft probe involving major infrastructure projects.
"I leave the government holding my head high, looking into your eyes," 55-year-old Lupi, who's not under investigation and has denied any wrongdoing, told lawmakers in Rome earlier Friday.
A total of 51 people including businessmen and officials are under investigation in the Florence case, which involves rigged contracts for major public works projects, ranging from high-speed train links to the Milan Expo world fair.
Four suspects, including Ercole Incalza, a former senior official in Lupi's department, have been arrested. Incalza "never received any benefits or advantage" from the events mentioned in the probe, his lawyer Nicola Madia said by phone after visiting his client in jail earlier Friday.
Lupi's resignation comes at a time when the Senate is discussing anti-corruption measures, considered key to attract foreign investments and revamp an economy which is still mired in its longest recession since World War II. Together with six other countries including Romania and Brazil, Italy is ranked 69th in the corruption index out of 175 nations analyzed by Transparency International.
Bad Omen
Lupi's name came to the spotlight after judicial documents showed one of the businessmen arrested gave his son a job and a 10,350-euro ($11,000) Rolex watch as a graduation present. Lupi's son is not under investigation and his father has repeatedly said he never asked favors for his children.
Lupi "did the right thing" and his decision won't have any consequences on the government, Italian Premier Matteo Renzi said in Brussels Friday after a summit of European Union leaders. He also said that he will serve as transport minister ad interim until a successor to Lupi is agreed upon in a meeting with President Sergio Mattarella.
Lupi is a member of the New Center-Right party, which is part of the governing coalition.
While his resignation won't have immediate consequences, it's a "bad omen" for the duration of the government, Francesco Galietti, founder of research firm Policy Sonar in Rome, said by phone. "Lupi's resignation marks a further crack" with Renzi's junior party ally, Galietti said.
Before it's here, it's on the Bloomberg Terminal.
LEARN MORE