Indonesia State Pension to Lift Housing Investment Fivefold
Yudith Ho and Harry Suhartono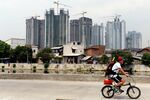 Indonesia's state pension fund plans to increase its investment in affordable housing by fivefold to fulfill demand from low-income workers.
BPJS Ketenagakerjaan will invest 10 percent of its 193 trillion rupiah ($14.7 billion) of assets under management to build homes this year, compared with 2 percent in 2014, President Director Elvyn Masassya said in an interview on Thursday. An estimated 34 percent increase in the pension's membership this year to 22.3 million people may expand the fund's assets to 233 trillion rupiah by the end of 2015 and help finance the housing investment, Masassya said.
The move is in line with President Joko Widodo's pledge to address a "dangerous" level of inequality that threatens the stability of the world's fourth most-populous nation and to boost growth to 7 percent. The country is grappling with an economy expanding at the slowest pace in five years and a currency at near the weakest level since 1998, which prompted international investors to sell more than $1 billion of local stocks and bonds in March.
"This is a long-term investment because demand for housing is still higher than supply," Masassya said at his office in Jakarta. "So the upside potential over the next 10 to 15 years will be enormous."
Construction Stocks
The fund's plan to build homes in the Greater Jakarta area, Bandung, Central Java, East Java, North Sumatra and South Sulawesi could benefit construction and cement companies starting next year, Steven Gunawan, an analyst at Batavia Prosperindo Sekuritas, said by phone from Jakarta.
A measure of Indonesian construction, property and real estate stocks jumped 56 percent last year, the most among nine industry groups in the benchmark index, as investors bet the newly elected government's plan to boost infrastructure spending will benefit state contractors.
Shares of PT Semen Indonesia and PT Indocement Tunggal Prakarsa, the country's biggest cement producers, gained at least 14 percent in 2014.
"This would favor cement producers and contractors over property companies in the medium to long term," Gunawan said. "The project could provide additional 20 trillion rupiah of business for them."
Record Rally
The current economic and financial-market situation isn't as troubling as it was during the selloff of emerging-market assets in 2013, or during the 2008 global financial crisis, Masassya said. He expects Bank Indonesia to lower its benchmark interest rate by another 25 basis points this year and the rupiah to average 12,500 to 13,000 a dollar over the next 12 months.
The central bank held its reference rate unchanged at 7.5 percent on March 17 after unexpectedly cutting borrowing costs by 25 basis points, or 0.25 percentage point, in February. The rupiah fell 0.6 percent to close at 13,118 a dollar on Friday, prices from local banks show.
Masassya expects the Jakarta Composite Index to extend its rally to a record 6,200 this year, implying a 14 percent advance from Friday's close. The benchmark stock gauge fell 0.2 percent to 5,443.07 today, trimming this year's advance to 4.1 percent.
Before it's here, it's on the Bloomberg Terminal.
LEARN MORE