Greek Bank Delays Enforced Sale of Stake in Turkish Lender
Isobel Finkel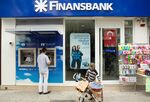 National Bank of Greece has delayed a sale of part of its stake in Turkey's Finansbank that must be held this year to cut the Greek investor's stake and meet a commitment to European regulators.
The banks will monitor equity capital market conditions "closely" and may revive the transaction later in the first half, they said in statements Friday. As recently as last week, the Istanbul-based lender said the share offering would be completed by early April.
NBG, which owns almost 100 percent of Finansbank, is being forced to reduce that to no more than 60 percent by year end. That's required to meet European Commission banking rules after Greek lenders were propped up a 50 billion-euro ($54 billion) state-aid fund, part of a European Union and IMF response to the country's debt crisis.
"Regulatory approval will probably take time and buyers are likely to demand a low multiple considering the necessity to sell," Cagdas Dogan, an analyst at BGC Partners Inc., said of the postponement.
NBG acquired the Turkish lender in 2006 and may dispose of as much as 26.9 percent of Finansbank, or as many as 954 million shares, in an initial transaction, a November Finansbank statement. That could be valued at more than $1 billion at current prices, said Dogan. The Greek bank would then require a further sale to achieve the 60 percent threshold.
In the three quarters through September last year, Finansbank was the most profitable foreign-owned bank in Turkey. Paula Hadjisotiriou, NBG's deputy chief executive officer said in a November conference call that the enforced sale of shares in Finansbank was not an easy decision to accept. "We have to carry it out, we don't have to like it," she said.
Turkish banking stocks lost 10 percent between the beginning of the year and the March 18 outcome of the latest Federal Reserve meeting. They recovered almost half of those losses in the day after the Fed signaled it would raise borrowing costs at a slower pace than previously forecast.
The sale is being jointly coordinated by Goldman Sachs Group Inc., Merrill Lynch and Morgan Stanley, Finansbank said March 14. A Finansbank spokesman declined to comment on Friday.
Before it's here, it's on the Bloomberg Terminal.
LEARN MORE