Ex-UBS Trader Darin Must Face U.S. Libor-Rigging Charge
Bob Van Voris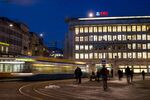 Ex-UBS Group AG trader Roger Darin lost a bid to dismiss a U.S. charge that he conspired to manipulate the London interbank offered rate for yen.
Darin, a citizen and resident of Switzerland, is among at least 11 traders outside the U.S. charged by authorities there with attempting to rig Libor. A judge on Friday rejected the argument that he doesn't have a sufficient connection to the U.S. to be prosecuted in New York federal court.
"Mr. Darin has not shown that it is arbitrary or fundamentally unfair to subject him to prosecution under U.S. criminal law," U.S. Magistrate Judge James Francis said in a ruling.
Before the decision, defense lawyers suggested that a win by Darin could block the government from filing charges against defendants outside the U.S. in its probes of Libor and currency manipulation. The ruling could make it easier for prosecutors if applied in similar cases.
Prosecutors claim Darin, who traded in short-term interest rates in UBS offices in Singapore, Tokyo and Zurich, was responsible for the bank's submission of data that were used in setting Libor, a benchmark used in pricing trillions of dollars in transactions throughout the world.
Fellow Trader
The government said he conspired with fellow UBS trader Tom Hayes, who is accused of trading with an unidentified party in Purchase, New York. Hayes's use of electronic communications routed through the U.S. and the alleged manipulation of Libor, which affected transactions around the world, support U.S. jurisdiction, prosecutors claimed.
Darin argued his actions are beyond the U.S. government's reach because he is a foreign citizen charged with "conspiring to manipulate a foreign financial benchmark, for a foreign currency, while working for a foreign bank, in a foreign country."
Francis rejected the government's argument that Darin isn't entitled to complain that his rights are being violated because he's a fugitive from U.S. law. Instead he said Darin is subject to U.S. law because he and Hayes allegedly conspired to manipulate yen Libor at the expense of at least one trading counterparty in the U.S. and also knew that the rate is used in the U.S.
"The co-conspirators purportedly caused the manipulated Libor to be published to servers in the U.S. and used U.S. wires to memorialize trades affected by that rate," he said in the ruling.
Darin claimed in court papers in December that the U.S. charges have put him in a "Kafkaesque situation" in which he can't find work in the financial industry and is unable to travel outside Switzerland.
The case is U.S. v. Hayes, 12-mj-03229, U.S. District Court, Southern District of New York (Manhattan).
Before it's here, it's on the Bloomberg Terminal.
LEARN MORE