EU Dangles Prospect of Aid to Entice Greece Into Action
Rebecca Christie, Jonathan Stearns and Karl Stagno Navarra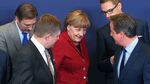 Greece could win an infusion of bailout money as soon as next week if Prime Minister Alexis Tsipras can deliver an adequate package of reform measures, an EU official told reporters in Brussels.
European Union leaders sought to revive bailout talks at a meeting in Brussels by signaling they might soon be ready to release some funds so long as Greece fulfills its commitments. The first money could come from profits euro members made when the European Central Bank bought discounted Greek debt during an earlier phase of the financial crisis. There's also money left in the country's 240 billion-euro ($258 billion) bailout program.
While Greece has an extension through June to meet its reform requirements, "if we're done earlier within the agreed framework, of course money can be paid out after all conditions are met," German Chancellor Angela Merkel told reporters in Brussels on Friday afternoon. "That's a decision for the Eurogroup."
Merkel sought to quash speculation that her nation is prepared to let Greece leave the euro. Her comments came hours after nearly four hours of talks with a group including Tsipras and ECB President Mario Draghi.
"I haven't entered into this debate and I will not do so now," Merkel said. "Everything we do is aimed at pointing the way toward to keeping Greece as part of the euro, as we have done successfully in recent years."
Active Role
Leaders have taken a more active role in the Greek negotiations in a bid to push past the logjam that has stymied Tsipras's efforts to unlock bailout cash since he came to power in January on a pledge to end austerity. Without a breakthrough, Greece could run out of money as soon as this month as debt payments, salaries and pensions come due.
Tsipras said Greece doesn't have an immediate short-term liquidity problem and needs bailout tranches to navigate his nations' coming hurdles. He described his meeting with Merkel as warm and friendly and said his Brussels talks didn't get into details of which reforms are needed.
"What matters now is how to move forward; there is no point to look in the past," Tsipras told reporters on Friday. "I believe there is now mutual understanding and there is ground to build a new relationship of trust. This doesn't mean we don't have differences any more."
Euro-area finance ministers could meet again as soon as March 27 to discuss the aid prospects, the EU official said. Meanwhile, staff-level negotiations will continue in Brussels and inspectors in Athens will delve into Greece's finances and the details of its proposed economic overhaul.
Avoiding Rupture
Greek bonds surged, with the yield on three-year paper trading 130 basis points lower at 22.4 percent at 3 p.m. Friday in Athens. On Thursday, the yield reached its highest level since July, when the notes were first issued. Greek stocks rose 2.2 percent.
The Athens Stock Exchange index has fallen 16 percent so far this month, while the yield on three-year bonds has risen more than 8 percentage points as Greece wrangled with its creditors.
"We avoided a rupture which could lead to a depositors panic next week," George Pagoulatos, a professor of European politics and economy at the Athens University of Economics and Business, said by phone. For Tsipras, he said, "the fact that such a high profile meeting was even held will boost his leadership image in Greece."
Tsipras's Move
Tsipras said that talks are now back on track and all sides are doing their best to overcome Greece's troubles, after a meeting he requested on the summit sidelines. Merkel, French President Francois Hollande and ECB President Mario Draghi were among the group that joined Tsipras to discuss Greece's issues.
"This was not a meeting to take decisions but to have a reality check and avoid misunderstandings at the highest political level," said EU President Donald Tusk, who also took part in the meeting.
Pension Payments
As Tsipras prepares for another meeting with German Chancellor Angela Merkel in Berlin on Monday, concerns grow as to whether he'll be able to pay salaries and pensions next week. Just how long Greece can survive on reserves isn't known, with estimates ranging from a matter of days to a few months. A different EU official said Thursday the euro zone's understanding is that Greece's cash could last until April.
Greece rolled over 1.6 billion euros of short-term notes due Friday and has said it will fulfill the day's debt obligations. The euro area's most-indebted nation is also scheduled to repay about 350 million euros to the International Monetary Fund, while interest due on four bonds held by the European Central Bank totals about 110 million euros.
Leading up to the summit, nations across the 19-nation euro area voiced frustration that Greece hasn't moved faster since an interim agreement in February. From Belgium to Slovakia to Latvia, finance ministers called on Greece to keep its promises and stop wasting time.
At the Brussels summit, Belgian Prime Minister Charles Michel called Friday for all sides to "avoid provocations" and fulfill the bailout commitments, in order to restore confidence. Dutch Prime Minister Mark Rutte told reporters the EU was prepared to meet as often as necessary to close the deal.
Talks with Greece so far have gone "painfully slowly" because "every time they're about to start talks with the institutions they find a hair in the soup," Rutte said. "In the end Greece just must live up to the agreements made on Feb. 20."
Before it's here, it's on the Bloomberg Terminal.
LEARN MORE