Enel CEO Sees 3-4 Binding Bids in May for Slovak Asset Sale
Firat Kayakiran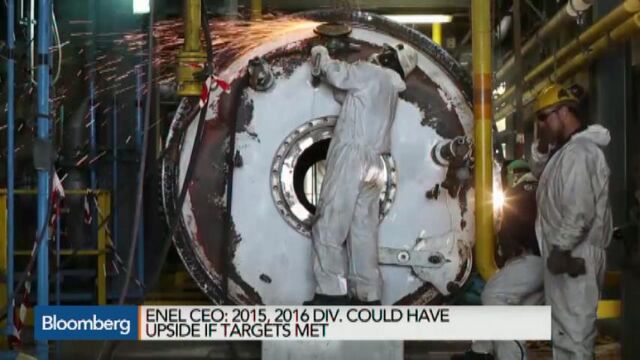 Enel SpA expects three to four binding bids for its two-thirds share of Slovakia's monopoly power generator in the first week of May and values the stake at about 1 billion euros ($1.1 billion) after putting it up for sale last year.
Italy's largest utility, which plans to boost its dividend this year, sees offers from companies operating around Slovakia for the Slovenske Elektrarne SA stake, Chief Executive Officer Francesco Starace said in an interview in London on Friday.
Its assets include an unfinished nuclear project that's beset by delays and cost overruns. Enel bought the company in 2006 for 840 million euros with a plan to finish building two more reactors at the facility, where spending has ballooned to 3.8 billion euros from 2.4 billion euros forecast in 2007.
Czech utility CEZ AS and a Hungarian group made up of MOL Nyrt's Slovnaft and state power producer MVM both said in November they had sent letters of interest in Enel's stake.
Enel has been cutting costs and seeking divestments to counter weak demand for electricity in Europe because of the region's economic slump. The company plans to raise dividends 5 percentage points a year to 65 percent of adjusted net income in 2018. The payout will be at least 16 euro cents a share in 2015 and 18 cents in 2016 if earnings miss the company's target.
"We have a much better visibility about the performance for at least two years as we have decided not to pursue monster M&As or large plant investments," Starace said. "M&A is basically at a zero-to-negative track record in our industry in terms of value creation and large investments incur cost overruns and delays."
The company seeks organic growth with smaller diversified investments that offer the ability to slow down or accelerate at any time, and has about 50 projects to develop, he said.
"Enel's focus on incremental growth rather than large-scale investments reduces the risk going forward," Elchin Mammadov, a Bloomberg Intelligence analyst, said in an interview. "A new simplified group structure and the focus on cost-cutting and operational efficiency is also a positive sign."
Before it's here, it's on the Bloomberg Terminal.
LEARN MORE