Dougan Compensation Falls After Credit Suisse Fined in U.S.
Jeffrey Vögeli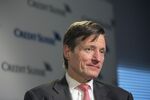 Credit Suisse Group AG Chief Executive Officer Brady Dougan's compensation fell in 2014 as the second-biggest Swiss bank paid a record fine for helping Americans evade taxes.
Dougan, 55, who will be replaced at the end of June by Prudential Plc CEO Tidjane Thiam, received compensation of 9.7 million Swiss francs ($9.8 million), including a salary of 2.5 million francs, Credit Suisse said in its annual report Friday. He earned 9.79 million francs the previous year.
The $2.6 billion U.S. fine prompted Credit Suisse to reduce bonuses for its top executives and board. Management will forgo 10 percent of last year's bonus and the same amount in unvested shares granted for 2013, the bank said last month.
"We did feel it was right to acknowledge the impact of the settlement on the earnings, and as a result the board as well as the executive board voluntarily took these reductions in compensation," Dougan said in a Bloomberg Television interview last month.
Credit Suisse also asked shareholders to approve an option to increase capital by as much as 6.4 million francs, equivalent to 160 million shares. The increase would allow the bank to "maintain financial flexibility in the course of further developing business activities and for the purposes of servicing the 2015 scrip dividend," it said.
Chairman Compensation
The lender is being probed in Italy for the "unauthorized exercise of financial activity," according to the report. It said in January that its Milan offices were searched in 2014.
Credit Suisse is also among parties sued by the Monte dei Paschi di Siena Foundation for 3 billion euros ($3.2 billion) for a fairness opinion the claimants say was issued in absence of key financial information.
The members of the board of directors, led by Chairman Urs Rohner, took a pay cut of about 25 percent as their share-based compensation was halved, Credit Suisse said in February. Rohner got paid 3.63 million francs for 2014.
The bank cut bonuses by 9 percent from the previous year, with the total pool at 3.27 billion francs, it said last month.
UBS Group AG said last week it raised CEO Sergio Ermotti's total compensation by 4 percent to 11.2 million francs, after a year in which UBS paid fines for attempting to rig foreign-exchange markets. Barclays CEO Antony Jenkins, 53, was awarded
5.5 million pounds ($8.1 million) in compensation for 2014, taking his first bonus since he replaced Robert Diamond in 2012.
Before it's here, it's on the Bloomberg Terminal.
LEARN MORE