Disney CEO Kept Steve Jobs's Cancer a Secret, New Biography Says
Tim Higgins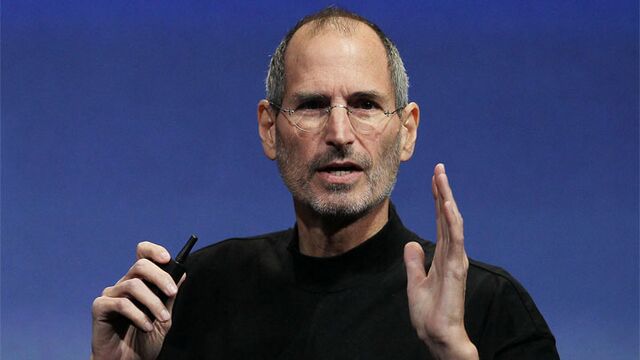 Walt Disney Co. Chief Executive Officer Bob Iger knew early on that Steve Jobs's cancer had returned and kept it a secret for three years before it became public knowledge, a new biography of Apple Inc.'s late CEO reveals.
Iger learned about the illness less than an hour before Disney announced its 2006 agreement to buy Pixar, the computer-animation studio run by Jobs, according to a copy obtained by Bloomberg News. "Becoming Steve Jobs" by Brent Schlender and Rick Tetzeli will be published March 24.
The $7 billion deal made Jobs Disney's largest shareholder and put him on the entertainment company's board. Iger told the authors he thought about the implications of keeping such a secret at a time when regulators were calling for more disclosure and holding executives more accountable to their fiduciary duties. Ultimately, Iger decided that Disney was assessing the transaction on the value of Pixar, not Jobs.
Iger said he told Jobs: "You're our largest shareholder, but I don't think that makes this matter. You're not material to this deal. We're buying Pixar, we're not buying you."
The book is the latest to detail the life and career of Apple's former CEO, who died in October 2011 after fighting a rare form of pancreatic cancer. The account paints a more sympathetic picture than the biography by Walter Isaacson, who devoted several passages in his book to Jobs's messy personal life, mercurial temperament and reality distortion field.
Representatives for Disney and Apple didn't respond to requests for comment. Iger was named to Apple's board in 2011, after Jobs's death.
Whole Person
"I thought the [Walter] Isaacson book did him a tremendous disservice," Tim Cook, who took over as Apple's CEO, is quoted as saying in the new book. "It was just a rehash of a bunch of stuff that had already been written, and focused on small parts of his personality. You get the feeling that [Steve's] a greedy, selfish egomaniac. It didn't capture the person."
Cook reveals in Schlender and Tetzeli's book that he offered Jobs a piece of his liver after learning in January 2009 that Jobs needed a transplant. Jobs angrily refused, according to Cook, who said a selfish person "doesn't reply like that."
Jobs was first diagnosed with cancer in 2003 and had surgery to remove it the next year. The tumor returned and he had a liver transplant in 2009.
Complicated Relationships
Some of Jobs's complicated relationships are included in the new biography, including his public spat with former Disney CEO Michael Eisner that threatened to derail the relationship between Disney and Pixar. Before being named as Disney's next CEO in 2005, Iger called Jobs about the news and told him: "I'm calling to tell you I'd like to figure out a way to keep this relationship alive."
Jobs replied: "I think I owe you the right to prove that you're different." The two began talking, first coming up with a deal to put ABC television shows on iTunes, a breakthrough for Apple. Ultimately, Jobs agreed to sell Pixar to Disney.
On the day the deal was to be officially announced, on Jan. 24, 2006, Iger said he was at Pixar's headquarters for the ceremony when Jobs asked to go for a private walk. On a secluded part of the campus in in Emeryville, California, Jobs put his arm around Iger's shoulder and revealed that his cancer was back. "Frankly, they tell me I've got a 50-50 chance of living five years," Iger quoted Jobs as saying.
"So I look at my watch and we've got 30 minutes," Iger recalled. "In 30 minutes, we're going to make this announcement. We've got television crews, we've got the board votes, we've got investment bankers. The wheels are turning. And I'm thinking, 'We're in this post Sarbanes-Oxley world, and Enron and fiduciary responsibility, and he is going to be our largest shareholder and I'm now being asked to bury a secret.'"
Keeping Secrets
It was a secret that only Jobs, his wife and doctor knew before it was revealed to Iger, he said.
The two CEOs walked back to announce the deal. Along the way, Iger said he pulled aside Alan Braverman, Disney's top lawyer, and asked for a second opinion. Braverman quickly agreed Disney could go ahead with the acquisition, according to the biography.
Three years later, Jobs took a medical leave of absence.
"In that three-year period, I always knew exactly what was going on with Steve medically," Iger is quoted as saying. "He and I would talk all the time, and since I kept things secret he confided in me."