Deutsche Bank Cuts Jain, Fitschen Compensation 11% in 2014
Nicholas Comfort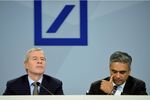 Deutsche Bank AG, which runs Europe's biggest investment bank, cut co-Chief Executive Officers Anshu Jain and Juergen Fitschen's compensation 11 percent for 2014 after the stock was the worst performer last year among global banks.
Jain, 52, and Fitschen, 66, were each awarded 6.66 million euros ($7.2 million) of compensation for last year, the company said in a statement in Frankfurt. Their fixed salaries last year rose about 65 percent to 3.8 million euros, while variable compensation fell 45 percent to 2.9 million euros.
The co-CEOs have sought to keep a full-fledged investment bank and consumer-lending unit since taking over in 2012, even as rising capital requirements hurt profitability. Deutsche Bank is revamping that strategy as investors have yet to reward its commitment to the businesses as they struggle to lift returns.
Deutsche Bank fell 24 percent last year, the most among the top nine global investment banks. While it has outperformed all those competitors with a 27 percent surge this year, it still trades at the lowest price to tangible book value of the group. That indicates that it's worth less than investors would expect to receive if the firm liquidated its assets.
Profit Doubled
Jain and Fitschen join banking executives including Citigroup Inc. CEO Michael Corbat and Bank of America Corp. CEO Brian T. Moynihan in having their pay cut.
Deutsche Bank's net income more than doubled to 1.66 billion euros in 2014 from a year earlier as provisions to cover fines and legal settlements almost halved.
Deutsche Bank's 7.1 billion euros of litigation expenses in the last three years have sapped its ability to build capital. That pushed the bank to tap investors for 8.5 billion euros in a share sale last year to meet regulatory requirements and fund growth.
European Union lawmakers capped bonuses at a maximum of twice fixed pay starting in 2014, adopting the world's toughest rules in a bid to tackle what they called a gambling culture blamed for contributing to the 2008 financial crisis. Banks have responded by increasing salaries.
Deutsche Bank increased salaries at its investment bank, home to its best-paid employees, 17 percent to 2.77 billion euros in 2014 from a year earlier, while bonuses at the division dropped 20 percent to 1.7 billion euros, the report shows.
Before it's here, it's on the Bloomberg Terminal.
LEARN MORE