Dougan Cuts Shareholding in Credit Suisse by Almost Half
Elena Logutenkova and Jeffrey Vögeli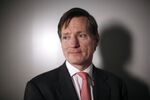 Brady Dougan, the departing chief executive officer of Credit Suisse Group AG, sold stock in the company last year, reducing his shareholding by almost half.
The CEO owned 641,334 shares at the end of 2014, down from 1.22 million shares a year earlier, Zurich-based Credit Suisse said in its annual report published Friday. Dougan also owns stock awards that haven't yet vested.
Dougan, 55, will leave the company at the end of June and be replaced by Prudential Plc CEO Tidjane Thiam. He has led the bank for almost eight years, and at the end of 2013 held the largest number of Credit Suisse shares and unvested stock awards among members of the executive board.
While Credit Suisse publishes information about management transactions during the year, it doesn't report who bought or sold the stock. There were 822,719 registered shares sold by members of senior management in 2014, and no purchases, based on company disclosures.
Credit Suisse fell 8 percent in Zurich trading last year, valuing the shares owned by Dougan at the end of 2014 at 16.08 million francs ($16.3 million). The bank said the current value of Dougan's unvested stock awards is 8.18 million francs.
Dougan held more shares than anyone else on the executive board at the end of last year. Robert Shafir, who co-heads the private banking and wealth management division, held the highest number of shares and unvested stock awards.
Total Compensation
The CEO was paid 9.7 million francs for 2014, Credit Suisse said, just below the 9.79 million francs in compensation he received for 2013. Dougan got part of his 2014 bonus in deferred share awards.
A $2.6 billion U.S. fine paid last year prompted Credit Suisse to cut the variable compensation executive board members would have received in 2014 by 9 million francs, or 20 percent. Of that amount, about 4.7 million francs was deducted from their 2014 bonuses and 4.3 million francs was cut from unvested shares granted for the previous year.
The members of the board of directors, led by Chairman Urs Rohner, took a pay cut of about 25 percent as their share-based compensation was reduced by half, Credit Suisse said in February. Rohner got paid 3.63 million francs for 2014.
Before it's here, it's on the Bloomberg Terminal.
LEARN MORE