Canada Inflation Rate Holds at Bottom of Poloz Target Range
Greg Quinn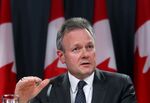 Canada's inflation rate held at the bottom of the central bank's target band in February as falling gasoline prices were countered by higher costs for home insurance and meat.
The consumer price index rose by 1.0 percent for a second month in February, Statistics Canada said Friday from Ottawa. The core rate, which excludes eight volatile products, slowed to 2.1 percent from 2.2 percent. Both rates matched the median in Bloomberg economist forecasts.
The Bank of Canada says a drop in oil prices will slow the inflation rate to 0.5 percent in the first quarter. Governor Stephen Poloz has said his surprise January interest-rate cut helped create "more balanced" risks for consumer price trends and bought time to assess the damage from cheaper oil.
The report had no new negative "fireworks" and suggests Poloz will keep his key lending rate at 0.75 percent at the next meeting April 15, said Nick Exarhos, an economist at CIBC World Markets in Toronto. "They are ready to stomach some near-term disappointments on the Canadian economy," including some weakness in inflation, he said.
Canada's dollar strengthened 0.08 percent to C$1.2668 per U.S. dollar at 9:19 a.m. in Toronto. Two-year federal government bond yields declined to 0.45 percent from 0.48 percent.
Gasoline prices fell 22 percent in February from a year earlier, a trend that may not last with prices at the pump jumping 9.4 percent from January, the most in almost eight years. Excluding gasoline, the 12-month inflation rate slowed to 2.2 percent from 2.4 percent.
Retail Sales
The price of oil collapsed about 60 percent from June to January as the Organization of Petroleum Exporting Countries maintained production and the U.S. pumped at the fastest pace in three decades. Crude oil is Canada's top export and the price drop has triggered layoffs and canceled investments from companies such as Talisman Energy Inc. and Cnooc Ltd.'s Nexen Energy.
A separate report from Statistics Canada today showed retail sales in Alberta, the heart of the oil industry, fell 2.8 percent in January, a fourth straight decline. Nationwide retail sales declined by 1.7 percent to C$41.4 billion ($32.6 billion), led by cheaper gasoline.
The inflation report for February also showed that food costs rose 3.9 percent as meat advanced by 12.4 percent and fresh vegetables by 8.4 percent. Home and mortgage insurance costs rose by 8.6 percent. Automobile prices fell by 1.0 percent, the first decline since May 2013.
Bank Forecast
The Bank of Canada's January forecast was for inflation to slow to 0.3 percent in the second quarter, and for core inflation to remain close to 2 percent through next year. The central bank sets interest rates to keep inflation in the middle of a 1 percent to 3 percent band.
On a monthly basis, total inflation rose 0.9 percent in February and the core rate rose 0.6 percent. Economists surveyed by Bloomberg predicted that overall monthly prices would rise 0.8 percent and the core rate would gain 0.6 percent.
Seasonally adjusted inflation rose 0.2 percent in February and the adjusted core rate increased 0.1 percent.
Before it's here, it's on the Bloomberg Terminal.
LEARN MORE