Bank of England's Haldane is Right to Warn on Wages, Posen Says
Tom Beardsworth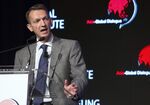 Former Bank of England policy maker Adam Posen said labor-market tightness is overstated and there's too little inflationary pressure that would justify an interest-rate increase.
While there isn't a case for a rate cut and deflation over a two-year time span is unlikely, Posen said he agrees with the analysis of BOE Chief Economist Andy Haldane on Thursday on the level of disinflationary pressure in the U.K. economy.
"The analysis he's presenting is the right one," Posen said in a Bloomberg TV interview Friday. "Unemployment data overstate the tightness in the labor market."
Haldane diverged from the majority opinion of MPC members in a speech Thursday, saying that "the chances of a rate rise or cut are broadly evenly balanced." Wage growth has consistently disappointed against the bank's forecasts even as the jobless numbers have shrunk much faster than expected, he said.
Posen was a member of the BOE's Monetary Policy Committee from 2009-2012 and consistently voted for looser monetary policy. The BOE's benchmark rate is currently 0.5 percent.
"There's still a lot of slack there -- you've got people who are underemployed, there's no competition for workers outside the City," said Posen, now president of the Peterson Institute for International Economics in Washington. "So you don't have these wages bidding up."
U.K. wage growth eased slightly in the three months through January despite sustained falls in the unemployment rate, the Office for National Statistics said Wednesday. That's probably because lower inflation expectations are affecting wage negotiations, Haldane said in his speech.
The strongest pound against the euro in more than seven years will have a deflationary effect on the U.K., which buys almost half its imports from the euro area, Posen said. "I think we're looking at the bottom being hit" for most of the euro area economy except Greece, he said.
Before it's here, it's on the Bloomberg Terminal.
LEARN MORE