AstraZeneca Lags in Cancer Race Where Losing May Spur Buyout
Oliver Staley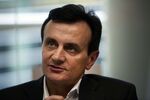 Working to fend off a takeover last May, AstraZeneca Plc told investors it could raise its revenue 75 percent by 2023, thanks in part to a robust pipeline of experimental drugs.
Almost a year later, those projections look shaky as rivals are moving ahead of the company in immune therapies for cancer, one of the hottest areas of drug development.
AstraZeneca is trailing three competitors with drugs that target lung cancer by harnessing the body's immune system, according to a report by Goldman Sachs Group Inc. While Bristol-Myers Squibb Co. was approved to sell its Opdivo treatment for the condition March 4, AstraZeneca's rival compound, MEDI4736, is still in trials and probably won't be submitted to U.S. regulators until next year.
"AstraZeneca is not in a leadership position," said Nicholas Turner, an analyst at Mirabaud Securities LLP in London, who recommends selling the company's shares. "If you're first mover, you could have a blockbuster. If you're fourth mover, unless you have something really significant as an advantage, it's difficult to see how you compete."
If AstraZeneca can't show revenue progress, the shares, carrying a high relative valuation, could slump to the point where the company becomes vulnerable to another takeover bid, Turner said. AstraZeneca is trading above 70 times its per-share earnings, more than twice the average of its Bloomberg Intelligence peer group of 13 large U.S. and European drugmakers. The shares traded at 48.30 pounds as of 11:13 a.m. in London on Friday. A close at that price would be a record.
Combination Hopes
The stakes are high for AstraZeneca Chief Executive Officer Pascal Soriot. He successfully resisted a $117 billion takeover attempt from Pfizer Inc. last year, telling investors his company could grow by itself to $45 billion in revenue by 2023 from $25.7 billion in 2013. To get there, he needs drugs to become huge sellers, and MEDI4736 is unlikely to be one, according to Turner.
The company is confident it will meet its long-term revenue goals and is making significant progress, said Esra Erkal-Paler, a company spokeswoman. Oncology drugs potentially could generate a quarter of sales by 2023, she said. Last year, they accounted for 12 percent.
MEDI4736's greatest benefit to patients will be seen when it's combined with other drugs, separating it from competitors, said Bahija Jallal, who heads the AstraZeneca unit that discovered the drug.
"We have the breadth in our portfolio to test multiple combinations," Jallal said.
Top Pick
AstraZeneca is running trials of AZD9291, a non-immune therapy, in lung-cancer patients with a specific genetic mutation who relapsed after earlier treatment. It's in a race with Clovis Oncology of Boulder, Colorado, to be first to a market that could be worth $3 billion in annual sales.
Some analysts see reason for optimism. AstraZeneca's immune-oncology pipeline is "under appreciated," said Jeffrey Holford, an analyst at Jefferies LLC in New York, who calls AstraZeneca his top pick among European pharmaceutical makers. The company is also developing treatments for heart disease, diabetes and respiratory illnesses.
Even if all the drugs come through, AstraZeneca will still be hard-pressed to reach its 2023 goal, especially because two of its current biggest sellers, Nexium and Crestor, face declining sales as they lose patent protection, Turner said.
Indirect Attack
For now, lung cancer is capturing much of the research focus and investor attention because so many people have the condition and its tumors resist standard chemotherapy. Instead of assaulting tumors directly, the newer drugs target proteins that prevent the body's immune system from fighting the cancer.
Goldman Sachs estimates the market for the drugs in lung cancer will be worth $12.3 billion in 2020. Analysts surveyed by Bloomberg estimate Opdivo sales of $5.8 billion that year, compared with $1.3 billion for MEDI4736.
Both drugs target proteins known as PD-1s and PD-L1s. Merck & Co. and Roche Holding AG are also working in this arena for lung cancer and may beat AstraZeneca to the market, the Goldman Sachs report said.
Until the drugs are tested against each other, there won't be much to differentiate them, said Colin White, an analyst with Datamonitor Healthcare, a London research company. That gives the first drugs on the market an advantage, he said.
Astra is testing MEDI4736 with 14 other drugs, including other immune therapies, in early-stage trials.
Double Edged
Jallal is most optimistic about combining MEDI4736 with tremelimumab, a different kind of immune therapy that blocks CTLA4, a protein that can switch off a patient's immune response. The company plans to test the duo in a range of tumors.
AstraZeneca's combination has major promise, said Seamus Fernandez, an analyst with Leerink Partners, in a December note to investors because of the possibility that its PD-L1 target is more effective paired with other drugs than the PD-1 used by Bristol-Myers.
Putting two drugs together can result in increased side effects, White said. Yervoy, a Bristol-Myers drug that attacks the same CTLA4 protein as tremelimumab, produced reactions including hepatitis and intestinal inflammation in 10 percent of its trial patients, who had to be taken off the compound.
"That's the downside to these combinations," White said. "The plus side is you're looking at vastly more effective treatments."
The first safety data for AstraZeneca's combinations will be presented later this year at a conference in Chicago.
Even in combinations, AstraZeneca faces competition. Bristol-Myers is putting Opdivo together with Yervoy, which was approved to treat melanoma in 2011. Merck and Roche are also testing their PD-1s and PD-L1s with Yervoy.
The crush of new lung cancer drugs on the market may result in insurance companies refusing to cover one or more unless they lower their prices, Mirabaud's Turner said.
AstraZeneca needs MEDI4736 to be a blockbuster to reach its targets, and given all the obstacles "it's difficult to see how that could happen," he said.
Before it's here, it's on the Bloomberg Terminal.
LEARN MORE