Vodafone Said to Move Closer to Deal for Metroweb Stake
Daniele Lepido and Amy Thomson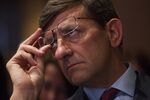 Vodafone Group Plc reached a preliminary agreement to buy a stake in Italian fiber-optic operator Metroweb Italia SpA from investor F2i Sgr SpA, three people with knowledge of the matter said.
Vodafone and F2i, which owns 54 percent of Metroweb Italia, signed a letter of intent to negotiate a deal, said the people, asking not to be named since the non-binding agreement isn't public and the transaction may still fall through. The letter of intent doesn't include financial details, though Newbury, England-based Vodafone may fund a capital increase of as much as 500 million euros ($532 million) in Metroweb unit Metroweb Sviluppo Srl, two of the people said.
Italy has been one of Vodafone's worst performing markets in the past few years, with sales falling 24 percent between 2012 and the fiscal year ending March 2014. Metroweb, which operates in the Milan area, would let Vodafone improve broadband services and strengthen its position with competitors including Telecom Italia SpA, which has also sought a stake in Metroweb.
Telecom Italia Chief Executive Officer Marco Patuano obtained a mandate from his board in September to make an offer for Metroweb, people familiar with the discussion said last year. Still, talks for the acquisition stalled because of a disagreement over the ownership structure, people familiar with the matter said in January.
One of the conditions Vodafone has assigned to the deal is that no single phone-service provider gains majority control of Metroweb, whose shareholders include state-backed Fondo Strategico Italiano.
Representatives for Vodafone, Metroweb and F2i declined to comment.
Before it's here, it's on the Bloomberg Terminal.
LEARN MORE