Unions Try to Get Between Banks and Their Customers
An international labor group brings its campaign to curb sales quotas to the U.S.
By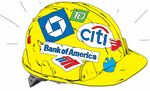 Five years ago in Copenhagen, leaders from UNI Global Union, a federation that represents 20 million workers in 150 countries, approved a charter that they're convinced can help avert another financial crisis.
The labor activists argued that by imposing sales quotas, banks had compelled their employees to sell customers products they didn't need, with risks they didn't understand. "We had many, many bank employees who had a crisis of conscience," says Philip Jennings, who heads the umbrella group, based in Nyon, Switzerland.
UNI's leadership drafted "sales and advice" provisions, designed to protect bank workers and consumers, and set about trying to get them into union contracts and industry agreements in Europe and South America. Now UNI is setting its sights on the U.S., where the banking sector is virtually union-free.
UNI wants bank workers' responsibilities conceived as a duty to provide conscientious advice to customers, rather than a duty to sell them as many products as possible. It wants fewer sales quotas, more protections for whistle-blowers, and better training. "It's important to have a fair relationship with the customer," says Angelo Di Cristo, an official with the Italian banker union FABI, a UNI affiliate. "They think we are a kind of thief."

UNI's global campaign has had mixed results. Brazilian unions last year negotiated an agreement with Madrid-based Banco Santander, which employs 49,300 people in Brazil, that labor leaders say has lessened pressure on workers to meet demanding sales targets. "Before, we had a great number of complaints from the bank workers about moral hazards, about sales obligations," says Rita Berlofa, a UNI leader in São Paulo.
In Europe, banks "don't want to commit," says Claudia Saller, a UNI policy officer based in Brussels who's been trying to secure an industrywide agreement to limit sales quotas. "It could be an attack on their way of doing business, and they don't want any interference with that." Still, UNI points to successes in extracting Europe-wide commitments from Santander and Barclays to promote ethical sales practices. Barclays didn't respond to requests for comment. A Santander spokesman in Madrid described its agreement, signed in 2011, as one of several measures taken to ensure its products are sold to the right customers. UNI is hopeful that negotiations between labor and UniCredit, Italy's largest lender, will yield a similar commitment by June. "Responsible sales is an important matter being discussed" with labor, says a spokesman for UniCredit.
UNI's goal of getting the big banks to sign agreements that would cover their workers worldwide remains elusive. "When we talk to them in Paris or London, they always say that management in the U.S. will never agree," says Elise Buckle, UNI's global policy coordinator for finance. The federation has been backing efforts spearheaded by the Communications Workers of America to unionize tellers, personal bankers, and call-center staff at U.S. banks.
Organizers claim 8,500 U.S. bank employees have taken a small step, such as joining a conference call or signing a petition, or a larger one, such as attending a rally outside one of Citigroup's Manhattan offices last year. CWA and its allies plan to kick off the next phase of their campaign, including a call to curb quotas on the number of loans, credit cards, or mortgages sold each day, at an April rally in Minnesota.
Michael Lewis, a worker at a Wells Fargo call center in Arizona, welcomes UNI's support. "I love that they're trying to prevent the banking industry from becoming the fast-food industry, like it is now in America—poor wages, a lot of stress," he says.
Michael Moebs, chief executive officer of economic research firm Moebs Services, argues that the unions' focus on quotas is outdated. "It just doesn't make good business for a bank to put tremendous pressure on its employees anymore," he says. Mike Townsend, a spokesman for the American Bankers Association, says, "Banks are committed to a culture of integrity and credibility and fostering a fair and ethical work environment is a vital part of that."
Erin Mahoney, an organizing coordinator at CWA, says the union is invested in organizing bank workers to protect its existing members, who are mainly in government and the telecom and airline industries. "We could bargain a contract that has a 5 percent raise for our members," she says, "but if their home is foreclosed on, or their grandmother has been pushed with three different credit cards, that affects them, too." According to the Bureau of Labor Statistics, only 1.6 percent of employees in finance are represented by a union. They're targeting "a group of workers who do not feel as if unions traditionally represent them," says Gary Chaison, a professor of industrial relations at Clark University in Worcester, Mass. "It'd be much easier to organize a manufacturing plant."
—With Francisco Marcelino and Nick Leiber
The bottom line: A global union's campaign to ease sales pressure on bank workers is targeting the U.S.
Before it's here, it's on the Bloomberg Terminal.
LEARN MORE