The Three Most Important Charts Today
Catch up on today's best stories
by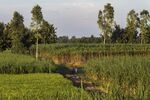 HSBC strategist David Bloom argues that the recent bull run for the U.S. dollar is nearing an end, but that didn't seem to affect its performance today, March 19. As this three-day chart shows, the U.S. dollar took a wild dive after yesterday's Fed decision but managed to claw back most of its losses on Thursday.

In other news, a new survey released today shows that the gap between those who approve and those who disapprove of Obamacare is shrinking heading into the Supreme Court's big decision later this year.

Finally, new research by Morgan Stanley attempts to measure how much increased sugar consumption (which leads to obesity, diabetes, and other health issues) saps productivity in developing countries. They found that "productivity growth in the OECD region drops to 1.5 percent annually," compared with forecasts of 1.9 percent.

Before it's here, it's on the Bloomberg Terminal.
LEARN MORE