Watches
The Baselworld Expo Will Reveal How Traditional Watchmakers Will Contend With the Apple Watch
Some smartwatch partnerships from Tag Heuer and Swatch have been rumored
By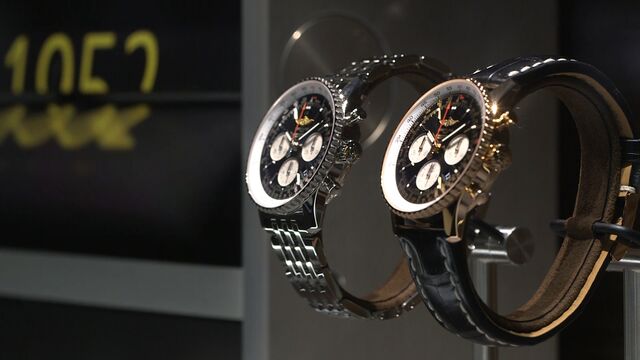 Basel, Switzerland is a small town that straddles the Rhine and sits right near both the French and German borders. It's best known for pharmaceutical giants and its eponymous art fair that travels to Miami and Hong Kong, but every spring for the last 98 years, Basel has also been taken over by the watch and jewelry industries, which gather to show off their latest wares. Welcome to Baselworld.

Swiss baubles and timepieces have been hocked in Basel since 1917, though it was as part of a larger show of industry until 1973. At that time, new quartz watches from Japan had traditional mechanical watchmakers on their heels; in a play for prestige, the brands showing in Basel developed their own expo. Eventually Swiss makers and their foreign counterparts made peace, and in 1986 the Basel show (called Baselworld since 2003) welcomed non-Swiss brands for the first time.
The newest exhibition hall—designed by local all-star architects Herzog and de Meuron—opened in 2013 and now offers more than 1.5 million square feet of exhibition space. It's filled this year by more than 1,500 brands from more than 40 countries, a far cry from the small fairs that were seen in the mid twentieth century.
The ornate three-story booths that clutter the hall are built by brands like Patek Philippe and Rolex, with their marble floors and on-demand espresso. They get all the attention, but in addition to makers of high-end luxury watches there are vendors selling loud CNC machines, cheap plastic bracelet links, and every other little bit of the supply chain needed to make watches from the elaborate to the utilitarian. Thousands of new watches are unveiled in a single week, some unceremoniously placed in a vitrine, others announced in massive press conferences by celebrity ambassadors. What's shown in Basel is what customers have to choose from at retailers for the next calendar year.

Each year the atmosphere is different, but this year's Basel is already injected with two forces from outside the traditional watch industry: currency fluctuations and technology. This week we'll be getting answers to questions like how luxury watchmakers will deal with the Swiss shock and the devalued Euro, and whether we will be seeing a repeat of the quartz crisis with the explosion of smartwatches—most notably the Apple watch, which will have a high end gold version aimed to directly compete with traditional status timepieces. 
Tag Heuer is expected to announce a forthcoming smartwatch made in partnership with a pair of major consumer technology companies and Swatch Group CEO Nick Hayek told Bloomberg in February that it would be entering the smartwatch market with "numerous innovative project launches." Even a few months ago it would have been unthinkable that the major conglomerates (Tag Heuer is part of LVMH) would enter the smartwatch space at all, let alone so close on the heels of Apple. 
Like I said, it's a big week for watches.   
Before it's here, it's on the Bloomberg Terminal.
LEARN MORE