Swiss Government Sees Price Slump, Weaker Growth After Cap Exit
Catherine Bosley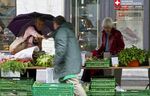 Swiss consumer prices will fall the most in six decades this year after the central bank gave up its currency cap, the government said.
Prices will decline 1 percent in 2015, while the economy will expand 0.9 percent, the State Secretariat for Economic Affairs in Bern said on Thursday. These are its first forecasts since the Swiss National Bank scrapped its ceiling on the franc of 1.20 per euro in January, causing a sharp rise in the currency.
"Although the appreciation of the Swiss currency will have a detrimental impact on the competitiveness of Swiss companies, the brighter economic prospects for Europe and the strengthening upturn in the U.S. should alleviate these negative effects," the Swiss government's group of experts said a statement accompanying its quarterly forecast.
When the SNB gave up its cap on Jan. 15, the franc surged more than 15 percent against a basket of some 150 counterparts tracked by Bloomberg, a blow to exporters in an economy that has generally outperformed neighboring Germany in recent years. The SNB will announce its interest-rate decision at 9:30 a.m. in Zurich. President Thomas Jordan, who has already warned there may be "one or the other" quarter of economic contraction, will hold a press briefing at 10 a.m.
"Seen from the today's viewpoint Switzerland may experience a temporary economic slowdown," the SECO said. "However, in the current environment there are no signs of any sharp downturn –- with a marked fall in economic activity and sharp rise in unemployment."
Weak Inflation
An inflation rate for this year of minus 1 percent would be the weakest for Switzerland since 1950, when prices fell 1.6 percent, according to statistics office data. It would exceed declines of 0.7 percent in both 2012 and 1959.
Swiss inflation is seen inching up to 0.3 percent in 2016, while growth is set to accelerate to 1.8 percent, the SECO said.
The SNB will issue its own growth and inflation forecasts on Thursday, and Jordan has said that there is room to cut the deposit rate, already at a record low of minus 0.75 percent, even further.
Economists surveyed by Bloomberg News predict the central bank will keep both the charge on sight deposits and the target range for three-month Libor on hold.
Rates Unchanged
"We forecast the SNB to keep rates unchanged throughout the year," said Beat Siegenthaler, a currency strategist at UBS Group AG in Zurich. "They could, however, be lowered further should the franc come under substantial appreciation pressure once again."
Since early February, the franc has traded weaker than 1.04 per euro, even as the European Central Bank embarked on quantitative easing. It is still up more than 10 percent against the euro so far this year, weighing on export growth and employment. Joblessness will be 3.3 percent this year and 3.4 in 2016, the SECO said.
The SECO's December forecast, issued when the cap on the franc was still in place, was for growth of 2.1 percent this year, with inflation of 0.2 percent and unemployment at 3 percent.
Before it's here, it's on the Bloomberg Terminal.
LEARN MORE