Swire Properties Sees Modest Hong Kong Retail Sales Growth
Michelle Yun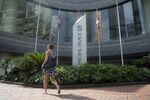 Swire Properties Ltd. said it expects modest retail sales growth in Hong Kong after rental income from its malls increased at a slower pace last year.
Gross rental income from the company's Hong Kong retail assets gained 3 percent to HK$2.7 billion ($348 million) in the year ended Dec. 31, compared with a 5 percent increase in 2013, it said.
"Demand for luxury goods in Hong Kong has weakened," though demand for prime retail space will remain high, the company said Thursday in its annual results statement. Underlying net income in 2014 rose 13 percent to HK$7.2 billion, beating analysts' estimates.
Hong Kong's shop landlords are under pressure as sales of luxury goods plunged 14 percent last year and retail sales had the first annual drop since 2003. A slowing Chinese economy coupled with the nation's anti-corruption campaign means spending by mainland tourists, which make up the majority of arrivals in Hong Kong, won't see a rebound "in the foreseeable future," Credit Suisse Group AG said in a March 17 report.
Pacific Place
Swire's Pacific Place, its most prestigious mall in Hong Kong, posted a 6.1 percent drop in retail sales last year due to weaker spending by mainland visitors and the impact of the Occupy protest movement in the last quarter, the company said.
"That softness is going to continue into 2015 and will impact us on our sales in Pacific Place," Chief Executive Officer Guy Bradley told reporters on Thursday.
The shares rose 1.7 percent to close at HK$23.95 in Hong Kong, compared with a 1.5 percent gain in the benchmark Hang Seng Index.
Gross income from Swire's retail properties, which comprises six malls in Hong Kong, Beijing and Guangzhou, rose 7.5 percent to HK$4.3 billion, the company said.
Citigroup Inc. downgraded Swire this week to a sell, citing the subdued outlook for Hong Kong's retail and office markets.
Rental income from the company's offices gained 6 percent to HK$5.7 billion. Swire, Hong Kong's biggest office landlord after Sun Hung Kai Properties Ltd., is redeveloping a cluster of properties in eastern Hong Kong Island, creating an alternative to the Central business district.
Swire will reevaluate its dividend payout policy "in light of our financial position and the prevailing economic climate," it said in the statement.
Before it's here, it's on the Bloomberg Terminal.
LEARN MORE