Siemens Drops as Oil Price Slump Hurts Profitability, Sales
Alex Webb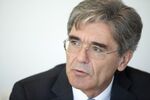 Siemens AG shares fell the most in seven weeks after Chief Executive Officer Joe Kaeser told investors that the falling oil price and operational difficulties are hurting profit and sales of Europe's biggest engineering company.
Weakening demand for offerings such as gas turbines and oilfield equipment will lead to a "moderate organic revenue decline" in the second quarter, Kaeser said at a conference in London. Operational difficulties at the wind power and process industries units are likely to drag on the profitability of Siemens' industrial business that quarter, he said.
The decline is a setback for Kaeser, who has spent 6.8 billion euros ($7.3 billion) to buy companies that help extract and distribute fossil fuels as he focuses Siemens on the power business. Dresser-Rand Group Inc., one of the acquisitions, said in February that it will shed 8 percent of its workforce as the decline in crude-oil prices erodes the outlook for investment in drilling.
"Even when the oil price was high, I found the price for the Dresser-Rand deal very high. So under current market conditions I find it too expensive," Frankfurt-based Commerzbank analyst Ingo-Martin Schachel, who rates Siemens hold, said by telephone. "A lot of the market conditions in the energy sector have worsened in the past six months, which highlights how cyclical a market it can be on which to build your business model."
Job Cuts
The shares tumbled as much as 3.8 percent in Frankfurt trading, the most since Jan. 28, and were down 2.7 percent as of 11:59 a.m.
Kaeser said in December that the deals weren't ill-timed even as the oil price slumped to its lowest in five years.
As part of a restructuring which eliminates an administrative layer and breaks Siemens's operations into nine divisions, Kaeser is in the midst of cutting 9,000 jobs to save 1 billion euros in costs by 2017.
The executive has said that the 2015 fiscal year, which ends Sept. 30, will be a "transition" year, and that Europe's largest engineering company will start catching up with the profitability of competitors such as General Electric Co. in 2016.
Kaeser said today that Siemens is benefitting from the current strong dollar and the weakening euro work, as these currency shifts boost orders and sales.
A weaker euro lowers the cost of exports from the euro region while making U.S. goods more expensive. European companies selling in the U.S. also earn more when they translate those sales back into their home currency, while U.S. companies garner fewer dollars from their sales in euros.
Before it's here, it's on the Bloomberg Terminal.
LEARN MORE