Shell, Eni Making No Progress on Nigeria Oil Spills: Amnesty
Paul Wallace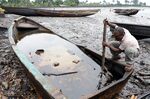 Royal Dutch Shell Plc is making no progress curbing oil spills in Nigeria and Eni SpA's operations in the West African country are out of control, according to Amnesty International.
The two companies reported more than 550 spills in the southern oil-rich Niger River delta last year, compared with an average of 10 spills a year in Europe between 1971 and 2011, said Amnesty.
"These figures are seriously alarming," Audrey Gaughran, Amnesty's global issues director, said in a statement on Thursday. "In any other country, this would be a national emergency. In Nigeria it appears to be standard operating procedure for the oil industry."
Nigeria produces about 2 million barrels of oil a day, more than any other African country. Spills are blamed for damaging the environment and fishing villages in the delta. Oil companies often blame sabotage and theft, a claim which local people contest.
The Italian government should investigate Eni for negligence in Nigeria, where it reported 349 spills in 2014 and 500 the year before, according to Amnesty.
Shell, the biggest oil producer in Nigeria, reported 204 spills last year, Amnesty said. The Hague-based company agreed to pay £55 million ($81 million) to the Bodo community in January for two spills in 2008 after a three-year tussle with 15,600 Nigerians, mostly fishermen, in a London court.
Precious Okolobo, a Lagos-based spokesman for Shell, and Filippo Cotalini, a Milan-based spokesman for Eni, didn't immediately respond to e-mailed requests for comment.
Before it's here, it's on the Bloomberg Terminal.
LEARN MORE