Secret Service Chief Says Notification of White House Incident Took Too Long
Justin Sink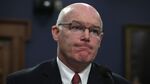 U.S Secret Service Director Joseph Clancy will tell lawmakers Thursday that while initial media reports exaggerated an incident involving two agents driving their car into a White House barricade, he is disappointed that it took five days before he was notified about it.
Clancy plans to tell lawmakers that failing to inform senior officials at the agency about such occurrences undermines his leadership, according to his prepared testimony.
"If it is determined that any one of our employees concealed information about this alleged incident, they will be held accountable," Clancy will say.
He'll also argue that initial media accounts of the March 4 incident alleging the agents might have been intoxicated were overblown, telling a Senate appropriations subcommittee that there was no crash. According to Clancy, video of the incident shows a vehicle entering the White House complex at a low speed and pushing aside a plastic barrel, causing no damage.
The Washington Post first reported the incident and cited unnamed current and former government officials as saying that the agents had struck a barrier at a checkpoint and may have run over or driven close to a suspicious package that was being investigated.
The video depicting the incident became a sticking point during a briefing Clancy gave to members of the House Oversight Committee on Tuesday. That panel's chairman told CNN on Wednesday that he was frustrated because the Secret Service only turned over two videos of the incident.
72 Hours
"We inquired if there were additional tapes and angles and the director informed us that there may not be because it's their policy to erase them 72 hours after they record, which is just unfathomable," said Representative Jason Chaffetz, a Utah Republican. "I can't think of any good reason to do that."
"This is not your local 7-11. This is the White House," he said.
A Secret Service spokesman, Robert Hoback, said in an e-mail statement that the agency retained video surveillance for the White House for just three days "as a practice."
"In the event of an operational security incident at the White House Complex, specific video footage is maintained for investigative and protective intelligence purposes," Hoback said.
Chaffetz has said his committee will ask the agency to turn over all tapes and any other physical evidence it holds related to the event. The Secret Service didn't say whether it had received or responded to that request.
Tapes Sought
Earlier this week, members of a House appropriations panel, which is considering the agency's budget request, peppered Clancy with questions about why the agency hasn't moved more aggressively to fire the agents involved in the incident. In his Senate testimony Thursday afternoon, Clancy will note that laws governing the treatment of federal employees restrict how and when he can respond to alleged misconduct.
"If the investigation reveals misconduct, those involved will be punished," Clancy says in his prepared remarks.
The episode is the first major test for Clancy, who was appointed by President Barack Obama as the agency's permanent director in February. The service's previous director, Julia Pierson, resigned following a series of high-profile security breaches, including an incident where a man was able to scale the north fence of the White House compound and run through the presidential mansion's front door.
The Obama administration says the president retains full confidence in Clancy, who was brought in after an independent panel recommended sweeping changes in the agency's training and culture.
"The president absolutely believes that Director Clancy is the right person for this job," White House press secretary Josh Earnest said Tuesday. "But there is nobody around here and I don't think there's anybody in Director Clancy's office who underestimates the size of the task. This is very difficult work, and going in and reforming an agency like this will be challenging."