Pirelli in Talks That May Lead to Ownership Change
Siddharth Philip and Tommaso Ebhardt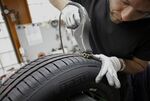 Pirelli & C. SpA's shareholders have held talks with investors that may lead to a change in ownership at the tiremaker, according to people familiar with the matter.
The discussions are continuing, and there's no guarantee of a deal being reached, said the people, who asked not to be identified because the matter is private. The Italian tiremaker's biggest investor is Cam Finanziaria SpA, which is jointly owned by an investment vehicle of Russian oil producer OAO Rosneft and a group led by Pirelli Chairman Marco Tronchetti Provera.
A Pirelli spokesman in Milan referred questions to Cam Finanziaria. A representative said the group had no comment. Italian daily newspaper Corriere della Sera reported earlier Thursday that Pirelli may be reorganized with new shareholders and then delisted.
The prospect of a shareholder change caused Pirelli's stock to jump as much as 5.2 percent to 15.18 euros, the highest intraday price since April 2002. The shares were up 2.5 percent as of 3:32 p.m.
It would be the fourth shareholder reshuffle in the last six years if new investors are brought in, according to Luigi De Bellis, an analyst at Italian brokerage Equita SIM SpA. Since Milan-based Pirelli is looking for a partner for its truck-tire division, bringing in new investors "could be under study," he said.
Potential new investors may include Chinese companies Zhongce Rubber Co. and China Chemical Corp. as well as Korea's Hankook Tire Co., according to the newspaper.
Before it's here, it's on the Bloomberg Terminal.
LEARN MORE