Obama Wants Congress to Vote on Iran Sanctions — in 10 Years
Terry Atlas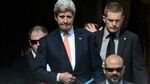 U.S. lawmakers should wait at least a decade before voting on lifting sanctions as part of any nuclear deal with Iran, a top Obama administration official said.
"Congress will have to exercise its authority to lift sanctions at the end of an agreement if Iran complies," Deputy Secretary of State Antony Blinken told the House Foreign Affairs Committee on Thursday, as negotiators in Switzerland sought a deal that would last at least 10 years. "And, indeed, keeping that until the end, until we see that Iran is complying, is the best way to sustain" leverage on Iran.
Lawmakers from both parties have been pressing to hold a vote soon on legislation allowing them to review any deal reached with Iran by the U.S. and five other world powers and to block the lifting of sanctions.
The administration has taken the position that the agreement isn't a treaty requiring the advice and consent of the Senate, although ending sanctions permanently would require legislation.
The administration plans to use presidential waivers to suspend sanctions while monitoring Iran's compliance with an accord. That arrangement would permit the quick "snap-back" of sanctions in the event of Iranian violations, Blinken said.
The administration also has said the United Nations Security Council should vote to recognize any agreement and to provide for lifting its own, limited sanctions.
'Consequential Enough'
"Our concern here is if you push us off for ten years, let us say in theory, and if this is consequential enough to go to the UN Security Council at the outset," then the deal "would certainly be consequential enough to be submitted to the Senate for advice and consent," said committee chairman Ed Royce, a California Republican. "That's the point I wanted to make."
Adam Szubin, acting under secretary of the Treasury for terrorism and financial intelligence, told the committee that "we will structure the nuclear-related sanctions relief in a way that is staged and commensurate with verifiable steps on Iran's part."
"We believe that legislative sanctions should be suspended first before they are terminated by Congress, so that we continue to retain important leverage years into a deal," he said.
Royce and Representative Eliot Engel of New York, the top Democrat on the committee, released a letter they plan to send to President Barack Obama from lawmakers citing concern about "grave and urgent issues" in the Iran negotiations. Engel said the letter has bipartisan support from 360 members.
It cites the size of Iran's uranium enrichment program, Iran's "lack of cooperation" with international inspectors, and the need for an intrusive inspection regime.
"Any inspection and verification regime must allow for short-notice access to suspect locations, and verifiable constraints on Iran's nuclear program must last for decades," it says.
Before it's here, it's on the Bloomberg Terminal.
LEARN MORE