Obama's Regret: Not Closing Guantanamo on Day One
He says he underestimated the political difficulty of closing the detention center for terrorism suspects.
By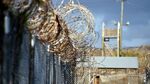 President Barack Obama says he wishes he had fulfilled his promise to close the detention center at Guantanamo Bay, Cuba, way back on Jan. 20, 2009.
Speaking Wednesday at the City Club of Cleveland, Ohio, the president brought up the military prison, which began housing terrorism suspects after 9/11, in response to a seventh grader who asked about what advice he'd give himself on his first day in the job.
"I would have closed Guantanamo on the first day," he said to applause after saying he also wished he had communicated more clearly how bad the recession would be. "I thought that we had enough consensus there that we could do it in a more deliberate fashion, but the politics of it got tough and people got scared by the rhetoric around it. Once that set in, then the path of least resistance was just to leave it open."
He also joked that he should have started dying his quickly graying hair "before people noticed, because by a year in, it was too late."
In an interview in January, then-outgoing Secretary of Defense Chuck Hagel told NPR that it was "going to be very difficult" for the president to fulfill his promise to transfer the remaining 122 detainees at the prison, who can't legally be sent to the United States, before the end of his term.