Nintendo's $6 Billion Rally Risks Overvaluing Phone Push
Pavel Alpeyev and Takashi Amano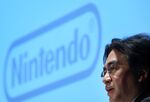 Nintendo Co.'s $6 billion rally risks overvaluing its long-awaited first steps into the market for smartphone games.
The shares soared 36 percent in the two days after President Satoru Iwata reversed his stance and announced plans to develop new titles for phones and tablet computers. The stock fell in Tokyo on Friday after closing at 19,100 yen on Thursday, 36 percent above the 12-month average price forecast of 17 analysts compiled by Bloomberg.
"The market has told us they favor this move, but I think the share price may reflect overoptimism in their potential to generate profits in a highly competitive area," said Michael Pachter, an analyst at Wedbush Securities in Los Angeles who recommends holding Nintendo shares. "They are doing the right thing, but it may be difficult for them to execute."
Iwata is counting on the star power of Nintendo's iconic characters to crack a market traditional publishers have ceded to free-to-play titles such as Angry Birds. That won't be easy for the 55-year-old Iwata, who also needs to use the Mario and Zelda franchises to drive demand for the company's own machines.
Shares of Nintendo dropped 6.6 percent in Tokyo on Friday, the biggest decline since Jan. 29. The company's ADRs fell 12 percent in New York on Thursday after surging 55 percent during the previous two days.
Analysts remain cautious, with just seven of the 21 tracked by Bloomberg recommending investors buy Nintendo stock.
Candy Crush
"This is an extremely difficult market that calls for a very different business model," said Hideki Yasuda, a Tokyo-based analyst at Ace Research Institute who rates Nintendo underperform. "Investors' expectations for massive short-term profits are causing the shares to overheat."
Nintendo is partnering with DeNA Co., owner of the Mobage network, to create new software and operate membership services that include applications based on its character lineup of plumbers, gorillas and princesses.
The new games will be tailored for smart devices rather than simply taking titles from Nintendo's Wii U console and 3DS handheld player and making them available on Apple Inc. iPhones or Samsung Electronics Co. Galaxy devices.
Forecasts Cut
Nintendo's smartphone offerings may appear as early as this fall, Iwata said. That means new games could go on sale as soon as September to face off against Supercell Oy's Clash of Clans, King Digital Entertainment Plc's Candy Crush and GungHo Online Entertainment Inc.'s Puzzle & Dragons.
Those three titles, which are available for free and make money with in-game purchases, topped the revenue rankings for smart devices in the past two years, according to researcher App Annie.
Nintendo's strategy may add 60 billion yen ($498 million) to operating profit in the year to March 2017, according to Eiji Maeda, an analyst at SMBC Nikko Securities Inc. In January, the company halved its earnings forecast for this fiscal year to 20 billion yen amid stalling Wii U sales. It's lost money on an operating basis the previous three years.
Nintendo's move into smartphones comes after much of the damage has already been done to its game business by the consumer shift to mobile.
While the company's 3DS handheld player has sold more than 50 million units since its 2011 debut, Apple shipped about 74 million iPhones in the December quarter alone.
Valuations Stretched
In January, Nintendo cut its annual target for 3DS handheld players by 25 percent to 9 million units. While the Wii U is faring better -- the company kept its forecast for a gain to 3.6 million units -- the console is selling at less than half the pace of its predecessor.
Even if Nintendo can successfully migrate its intellectual property to smartphones, that will undermine the profitability of its own platforms, according to Amir Anvarzadeh, a manager of Japanese equity sales at BGC Partners Inc. in Singapore.
"We see hopes of Nintendo grabbing back market share in handheld games as totally misplaced," Anvarzadeh wrote in an e-mailed report. "The hollowing out of its gaming franchise should continue."
The sheer size of the smart-device market has underpinned this week's investor optimism. Global shipments of tablets and smartphones will top 2 billion units annually by 2018, according to IDC forecasts.
"Whenever there is a surprise announcement, the valuations tend to stretch a bit," said SMBC Nikko's Maeda. "At this point, it's too difficult to tell if people's expectations are overshooting or this could really help take profit beyond 100 billion yen in the next two to three years."
Before it's here, it's on the Bloomberg Terminal.
LEARN MORE